Ethiopian Yirgacheffe coffee from Coastal Roasters.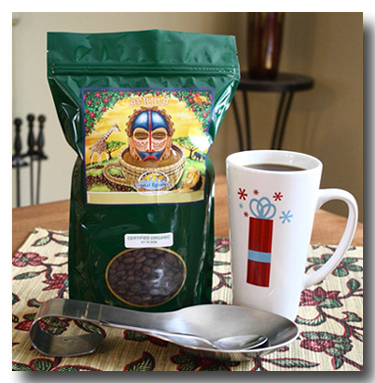 First, thank you again Coastal Roasters! This is the third of your coffees we have tried, and it's great.
Ethiopian Yirgacheffe is famous the world over, and not only because Ethiopia is the original source of all the world's coffees.
It's also justifiably famous for its unique flavor.
What's more, Yirgacheffe coffees are not all the same. Local growing conditions, the processing and the roasting can all have an impact.
This particular Ethiopian Yirgacheffe is also organic and Fair Trade. And, as is common practice with Yirgacheffe coffees, it is light roasted.
We were looking forward to the tasting, because we have had Yirgacheffe coffees before, and have enjoyed them. But we were also a little nervous, because all kinds of things can go wrong with a light roast.
The darker you roast a coffee, the greater the number of sins you can bury, or burn. But with a light roast, the quality of both the beans and the roaster are fully exposed.
(Probably the worst thing that can happen with a light roast is that you end up with a coffee that is weak, bland, and with almost no character.)
OK, now for the tasting. We ground the beans, brewed the grinds immediately and let the coffee cool for a few minutes.
And...we loved it.
The cup doesn't have a very strong aroma, but when you taste the coffee, it's all that a good Yirgacheffe should be.
Everything about the taste is harmonious. No one taste or note overwhelms any other.
There is a touch of bitterness, but it fills you mouth with a variety of other subtle notes – some citrus, some sweetness.
Beyond that, there are whispers of other flavors, resulting in a very satisfying taste overall.
Kudos to the buyer, for choosing some great beans, and to the roaster for bringing out the best in them.
UPDATE: I have had to remove the link to their site, because it looks like they may have gone out of business. Sorry about that.
Learn more about Ethiopian coffee...