Sumatra Gayoland from Coastal Roasters. A dark roast with a deep, rich flavor.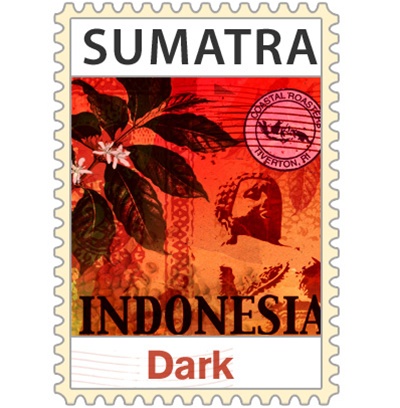 Thank you Coastal Roasters! We received the box of samples and will be working our way through them all.
First out of the box was your organic and Fair Trade Sumatra Gayoland coffee. I must admit that the choice wasn't entirely random, as we have had good tasting experiences before with the Mandheling coffees from Indonesia.
That said, your Sumatra Gayoland coffee was quite unlike any others we have tried.
But I'm getting ahead of myself...
First, as always, we ground a small batch of beans in a conical grinder, immediately brewed the coffee, and then let it sit for a couple of minutes before tasting.
Yes, it is clearly a dark roast. Yes, there is a dark chocolate sweetness in there. And yes, a touch of bitterness.
You could say as much about most dark roasted Mandheling coffees.
So now for the best part...
There is a unique flavor profile here we have never come across before. And it's wonderful. As for how to describe it, that's another matter.
It's all about that bundles of bitterness and sweetness. In the past, for other coffees, we have described this as being a little like a bitter-sweet chocolate. So let's start there.
Bitter-sweet chocolate is partly right, but not quite.
Maybe think it terms of a semi-sweet, semi-dark cooking chocolate. Not too bitter and not too sweet. No sharp edges.
Now we have taken off the sharp edges, or peaks...we'll amplify and deepen the taste, or volume, by a factor of two.
In other words, this is a very rich and bold coffee, but without any sharp peaks of either bitterness or sweetness.
If it were music it would be played on a double base – rich and deep.
I'm not sure if we are managing to do this roast justice, but if you love dark-roasted coffee, we think you'll really love this one.
Kudos to the roaster!
UPDATE: I have had to remove the link to their site, because it looks like they may have gone out of business. Sorry about that.