Reviews, surveys and market research for coffee business professionals.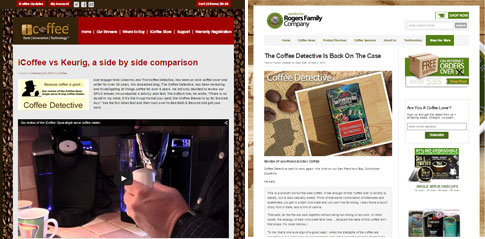 Our reviews of the iCoffee Opus brewer and some Rogers Family coffee attracted enough attention to get featured on their sites.
The Coffee Detective website has been online since 2006, and its primary purpose is to help coffee lovers brew and enjoy a better cup of coffee.
However, as our audience has grown, we have also been able to serve the needs of coffee professionals in a number of different ways.
Coffee Reviews: Reviewing gourmet coffees in language every coffee lover can understand.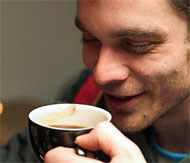 Professional cuppers do a great job, but sometimes the language they use to describe the tastes and flavors of coffees is a little technical for us mortal folks.
In our reviews we try to stick to everyday language, so all our readers can understand.
Basil Jones, Managing Director of Coffee Solutions Ltd, Kingston Jamaica, and master roaster, cupper and supplier of Ridgelyne brand certified genuine 100% Jamaica Blue Mountain® coffee said on reading The Coffee Detective review of his coffee...
"I love the review, this  guy knows his cupping, he is speaking my language when he describes tropical fruits, nuts,  molasses and he also went on to describe the lemony peaberry. Very few people are able to discern the lemony note that is a hallmark of a top notch peaberry roast." 
If you are the roaster or distributor of a coffee you would like us to review, please get in touch with us through our contact page.
Equipment Reviews: Video reviews of coffee makers, coffee grinders and other equipment.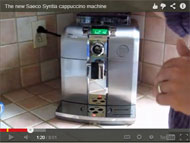 Our video reviews of coffee-making equipment have proved to be very popular. We post them on this site and on YouTube. At the time of writing, these videos reviews have been seen almost 500,000 times.
If you have coffee-making equipment you would like us to review, please get in touch with us through our contact page.
Reader Surveys: The brewers they use, the coffees they like, and where they buy.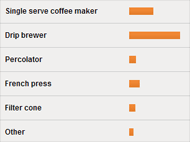 So far we have conducted three online surveys,designed to reveal our readers' preferences when it comes to the coffees they drink and the coffee equipment they use. 
If,as a business, you would like us to conduct a survey of our readers on your behalf, please contact us through our contact page.
Get a copy of our report for coffee marketers, "What Coffee Drinkers Say".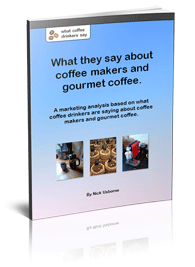 Every day coffee lovers express their views and emotions about the coffees they drink and the equipment they use to brew it. Some are delighted, some are upset, some are concerned, and some just want to share their passion for all things coffee.
I have been following these conversations for 9 years now, and have used this information to create a 34-page report for marketers of gourmet coffee and the manufacturers of coffee making equipment.
Each of the 6 sections focuses on the marketing opportunities revealed by what coffee drinkers actually say.
A combination of the consumer comments and marketing commentary provides you with invaluable insights you can use when planning future promotional campaigns.
Learn more about this report here...
ZeroDecaf Marketing: A new consulting and writing service for coffee companies that sell to gourmet coffee lovers at home.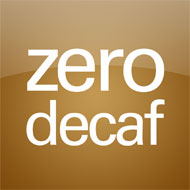 The home consumer market is becoming increasingly competitive, with more and more companies selling both coffee and coffee brewing equipment to gourmet coffee enthusiasts at home.
Within any competitive environment, marketing becomes increasingly important.
That's where ZeroDecaf Marketing comes in. We can help you differentiate your coffee business more clearly, help you extend the reach of your story, and help you increase the conversion of site visitors to actual buyers.
Learn more about ZeroDecaf Marketing and download your FREE Report…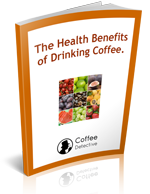 This 9-page report tells you about some of the surprising, and important health benefits of drinking coffee.
This report is yours FREE when you sign up for the Coffee Detective Newsletter
"The Health Benefits of
Drinking Coffee"
Sign up below and we'll provide a link where you can download your report immediately.
---