After enjoying the health benefits of drinking coffee, now do the same with topical coffee products for your skin and hair.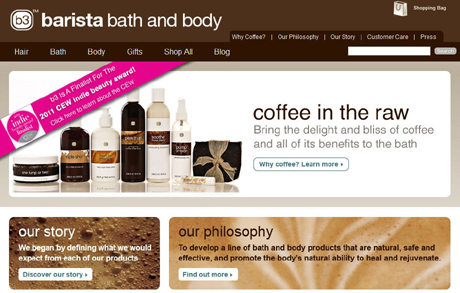 Who would imagine that the health benefits of coffee would extend beyond internal use – by drinking the stuff – to the use of topical, coffee-based products for your skin and hair?
First, a big thanks to the folks at Barista Bath and Body for sending us a sample pack of their products, which included shampoo, conditioner, shower wash and body cream.
And yes, coffee is a major ingredient in each of them.
(Disclaimer note: Yes, we got these products free, but beyond that, we are not being paid or rewarded in any way for writing this review.)
Before we get to the health benefits, let me say a few words about the products themselves.
Personally, I can barely tell the difference between a body cream and a jar of mayonnaise, so I asked the ladies in the house – mother and daughter – to give me their opinion.
Both have tried all four products, and they like them all. Although at first they found it a little unsettling to be using coffee-colored shampoo and shower wash.
Which raises the main question here…and that is, why on earth would one use organic coffee as the main ingredient for a range of hair and body care products?
Well, it seems there are some good reasons.
First, the inclusion of coffee allows for the exclusion of some very unpleasant chemicals often found in other hair and body care products. Chemicals like parabens and phthalates.
Second, the use of coffee brings the pH of these products very close to neutral. Most products of this type, particularly shampoos and body washes, have a very high, alkaline pH, which isn't good for either your hair or your skin.
Third, there are some significant health benefits associated with the topical application of coffee.
According to their literature…and they do cite scientific studies to support these claims…
* Applying caffeine to your body through shampoo is a highly effective treatment for premature hair loss.

* Caffeine assists in lowering the risk of skin cancer.

* Creams containing caffeine help reduce the appearance of cellulite when applied to the skin.

* Coffee is a major contributor of antioxidants.
Put this all together, and you can see why using hair and skin products which contain coffee is such a good idea.
Drink coffee to protect yourself on the inside, and use these hair and body care products to protect yourself on the outside.
You can learn more about these products at Barista Bath and Body.


About the author: Nick Usborne, aka Coffee Detective, is a writer and long-time coffee enthusiast. Read more…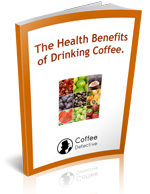 This 9-page report tells you about some of the surprising, and important health benefits of drinking coffee.
This report is yours FREE when you sign up for the Coffee Detective Newsletter
"The Health Benefits of
Drinking Coffee"
Sign up below and we'll provide a link where you can download your report immediately.
---