Custom flavored coffee – buy flavored syrups, or make your own.
For many of us, our first experience of custom flavored coffee took place in a convenience store...simply by adding flavored creamer to our coffee. Hazelnut seems to be popular in the world of flavored creams.
However, at home you are better off flavoring your coffee with a syrup.
You'll find these syrups in supermarkets, coffee stores and even Starbucks. There is a huge array of choices.
What we like best about the syrups is it means you can buy your favorite whole coffee beans, and then add the syrup of your choice, as and when you feel like it. To be honest, we don't flavor our coffee very often. But we know a lot of people like to.
There are numerous brands of coffee syrups available. Some of the major brands to watch for are Monin, Torani, Dolce, Da Vinci and Senza.
There are also sugar-free syrups on the market, and even organic syrups.
And once you have them, in addition to using them for custom flavored coffee, you can also use them for baking, smoothies and in sparkling water.
You can even make your own custom flavored coffee syrups...
Here is a really simple recipe for vanilla syrup, just to give you an idea.
Take one cup of water, one cup of sugar and one whole vanilla bean.
Combine all ingredients together in a small saucepan. Bring it to a boil and stir to dissolve the sugar. Once the mixture boils, reduce the heat and simmer for about 5 minutes. Cool the mixture completely and pour it into a glass container with a sealable lid. Finally, remove the vanilla bean before using.
Et voila...your very own vanilla syrup for custom flavored coffee. 
And, of course, you can buy ready-flavored coffee in pretty much every corner store and gas station.
Back to the perfect flavored coffee blend page...

About the author: Nick Usborne, aka Coffee Detective, is a writer and long-time coffee enthusiast. Read more…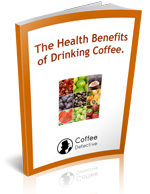 This 9-page report tells you about some of the surprising, and important health benefits of drinking coffee.
This report is yours FREE when you sign up for the Coffee Detective Newsletter
"The Health Benefits of
Drinking Coffee"
Sign up below and we'll provide a link where you can download your report immediately.
---