How to make a single cup of coffee with a one-cup filter cone.
Using a filter cone is certainly the least expensive way to make coffee, but it makes a brew of a quality which is just as good as you'll get from an expensive, automated drip brewer. That's the thing about making good coffee – when you buy an expensive coffee maker you are paying for convenience, not better coffee.
You can buy a filter cone locally, or at Amazon.com.
More videos about coffee and coffee makers...


About the author: Nick Usborne, aka Coffee Detective, is a writer and long-time coffee enthusiast. Read more…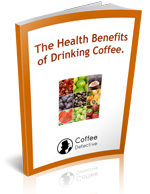 This 9-page report tells you about some of the surprising, and important health benefits of drinking coffee.
This report is yours FREE when you sign up for the Coffee Detective Newsletter
"The Health Benefits of
Drinking Coffee"
Sign up below and we'll provide a link where you can download your report immediately.
---