The perfect flavored coffee blend – Flavored beans? Or syrups?
There are two ways to get almost any kind of flavored coffee blend.
First, you can buy flavored coffee beans just about anywhere. The flavor is actually impregnated into the beans themselves. So you just grind and brew as normal.
There is an almost dizzying choice when it comes to flavors - vanilla, hazelnut, cinnamon and almond...not to mention apple, banana, walnut cherry and blueberry cheesecake.
It seems that there are buyers for just about every weird flavor you can imagine.
Of course, not every kind of coffee bean comes with flavor added. If you find some Peaberry Especial beans, don't expect them to come in blueberry cheesecake flavor.
If you do want to try some flavored coffee, you can get naturally flavored coffee with no chemicals at Flavorbean Coffee.
Or buy regular coffee beans, and some flavored syrups
When you buy half a pound of walnut flavored coffee, you're stuck with it. Unless you have plenty of kitchen storage space and an unlimited coffee budget, you'll want to finish your walnut coffee before you buy a bag of apple-flavored beans.
Fortunately, there's an alternative. Buy regular coffee beans and a few different kinds of flavored syrups. That way you can use the same beans and add from a choice of flavors, or not even flavor it at all.
Coffee is a multi-billion dollar business. Filling the stores with yet another flavored coffee blend is just another way for them to "add value" to their product and have you spend a few more dollars. Can you imagine the number of half-used bags of flavored coffee beans that are thrown away each day?
Much better that you buy a regular blend, and a selection of flavored syrups for use as and when you want to.
One last tip: Find a syrup with natural flavors, so you don't spoil your coffee with the taste of artificial additives and sweeteners.
More about flavored coffees:
How to make your own French Vanilla coffee creamer.

Flavoring coffee with coffee with syrups.
Create your free online surveys with
SurveyMonkey
, the world's leading questionnaire tool.
About the author: Nick Usborne, aka Coffee Detective, is a writer and long-time coffee enthusiast. Read more…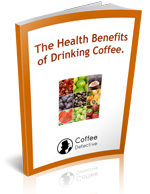 This 9-page report tells you about some of the surprising, and important health benefits of drinking coffee.
This report is yours FREE when you sign up for the Coffee Detective Newsletter
"The Health Benefits of
Drinking Coffee"
Sign up below and we'll provide a link where you can download your report immediately.
---