K-Cups or Coffee Pods? The biggest difference is in the price.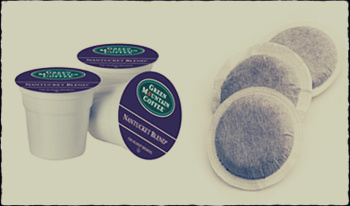 Whether you use K-Cups or Coffee Pods to make your single servings of coffee is determined by the machine you buy.
Keurig single serve brewers
use K-Cups. You can't use coffee pods with a Keurig. And Keurig brewers are the only ones that use K-Cups.
What is a K-Cup?
It's like a small yogurt pot. Inside there is enough ground coffee for one cup of coffee, and a filter. When you put the K-cup in the brewer and close the lid, small holes are punched into the top and bottom.
Hot water is then forced through the hole in the top, and fresh, filtered coffee drips out through the hole in the bottom and directly into your cup.
It' a system that works well, and it's perfect if you are the kind of person who just wants to make one cup of coffee at a time.
Also, because you don't need a separate grinder, or have to clean up messy filters afterwards, it's also great for your office or as a second coffee maker for your home office.
But if you want to use K-Cups, you have to buy a Keurig coffee maker. There are a few models, ranging in price from about $100 and up.
You can compare the different Keurig single cup brewers from Green Mountain Coffee.
How are Coffee Pods different?
Coffee pods are just like round tea bags. There are a number of companies now making single-serve coffee makers designed for coffee pods.
The benefits are the same as with K-cups. You just add water to the brewer's reservoir, put in one pod, close the lid and press the start button.
Once you're done, throw away the used pod and you'll have a single serving of coffee.
There are a number of companies making single serve brewers that use coffee pods. The best known is probably Senseo.
One extra benefit of the coffee pod brewers is that you can also buy special tea pods. So you can use the same machine to make a cup of coffee, or a cup of tea.
Coffee pod brewers are also less expensive. If you look around a bit you can find one for under $50.
For instance, at the time of writing, you can buy a Melitta Single Serve Pod Coffee maker for just $22.95.
How much do these single servings of coffee cost?
Once you have purchased your Keurig for K-cups, or some other machine for coffee pods, you then have to buy the coffee.
Either way, you're going to end up paying more than buying whole beans, grinding them and using a drip brewer or French press. Quite a bit more.
But if you want the convenience of a single serve brewer, then keep in mind that coffee pods are a lot less expensive than K-Cups.
In other words, if price is an issue, you need to look at more than the cost of the brewer itself. You also have to think about how much you're going to pay for a year's supply of K-Cups or coffee pods.




Return to the single cup coffee brewers page...