Nespresso Machines are automatic espresso makers, using capsules.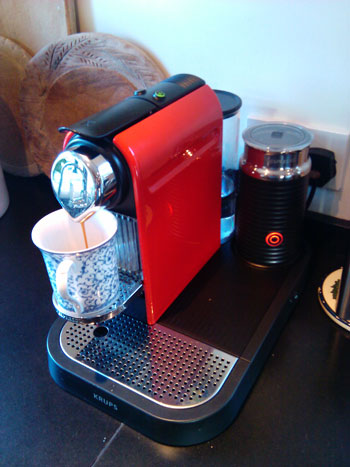 There are various machines available for making single serve coffee, using K-Cups, discs, pods and the like.
Nespresso brings the same approach to making espresso and espresso drinks, using their unique single serve capsules.

While we don't have a Nespresso machine ourselves, one of our neighbors does, and they were kind enough to let us give it a spin.

Their machine is the one you see in the photo above. We took the photo in their kitchen. This is the CitiZ model, including a milk frother.
Espresso experts get a little hinky about these automatic machines, so we were anxious to see whether the Nespresso could actually make a decent shot of espresso.
And we found that it does. The machine has a 19-bar pump, which is plenty of pressure for making espresso. And the results are delicious. With our neighbor's machine, which includes the frother, we were also able to make an excellent cappuccino.
As for the coffee capsules, they are very small. There are 16 different roasts and origins to choose from, suitable for making Espresso, Ristretto, Lungo and Cappuccino.
Should you get a Nespresso espresso machine?
Certainly, they are beautifully designed and would match the esthetic of even the smartest kitchen.
They also offer a wonderful level of convenience. Just add water and a capsule, and a few moments later you have a terrific espresso. No loose coffee grinds, no mess, and no cleanup.
On the downside, these machines are not inexpensive. Plus, you are limited to the available capsules. If you are a hard-core espresso fan, you might find that limiting. But for most of us, the variety of capsules offered is more than enough.
Ultimately, it comes down to price.
If you have about $150 and up to spend on an espresso machine - depending on the model - one of the Nespresso machines would be a great choice.
BTW - There seems to be a huge push behind marketing these machines right now. The photo below shows a display I saw recently at a local store, complete with a big screen video demo.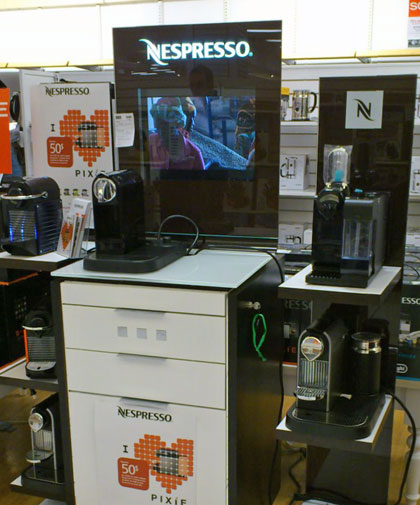 About the author: Nick Usborne, aka Coffee Detective, is a writer and long-time coffee enthusiast. Read more…
This 9-page report tells you about some of the surprising, and important health benefits of drinking coffee.

 

This report is yours FREE when you sign up for the Coffee Detective Newsletter

"The Health Benefits of
Drinking Coffee"

Sign up below and we'll provide a link where you can download your report immediately.
---