One cup coffee – when you use a single serve coffee maker, every cup is fresh and hot
And those are just two of the high points when using a one cup coffee machine.
We have a Keurig B60 here at Coffee Detective. So our comments are based on our experience with that machine. But the main benefits of one cup coffee making are the same across all single serve brewers.
Here's what we have found:
1. Every cup of coffee is hot
We love that. When we're not using our Keurig, we use a drip brewer with a thermal carafe. The trouble is, even the first cup of coffee from the carafe is never really as hot as we like it. And by the time you go back for a second cup, it's not hot at all. But when you use a one cup coffee maker, every cup is hot.
2. Every cup of coffee is fresh
In spite of our own advice to the contrary, sometimes we leave coffee beans in their bags, opened, for too long. And when air gets to your beans, some of the flavor is lost. With one cup coffee pods or K-Cups the coffee is sealed until you use it. So every cup is fresh.
3. Choose a different coffee every time
When you buy a pound of beans, you have to work your way through them all, drinking the same coffee all the time until they are finished. For our Keurig brewer we usually have three or four boxes of different blends open at the same time. So we might have a Hazelnut flavored coffee first thing and, for our next cup, choose a Colombian blend or a dark Kenyan blend.
4. No clean up
We love this part. We just drop each used K-Cup into the trash. We don't have to deal with messy filters, or even clean the coffee maker. All we have to do is wipe the tray where you place your cup. And we only do that once every couple of days or so.
True, each K-Cup we use costs more than if we had made coffee with ground beans in a traditional drip brewer. But for us, all the benefits of one cup coffee making are worth the extra few pennies per cup.
You can find out more and buy the Keurig B60 here. 
Choosing between the different Keurig single cup brewers... 
K-Cups or Coffee Pods? Which is the best choice?
How to save on the price of K-Cup coffee... 


About the author: Nick Usborne, aka Coffee Detective, is a writer and long-time coffee enthusiast. Read more…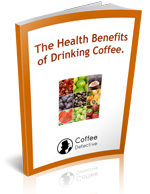 This 9-page report tells you about some of the surprising, and important health benefits of drinking coffee.
This report is yours FREE when you sign up for the Coffee Detective Newsletter
"The Health Benefits of
Drinking Coffee"
Sign up below and we'll provide a link where you can download your report immediately.
---