A full, smooth coffee from Burundi, from Peter Asher Coffee.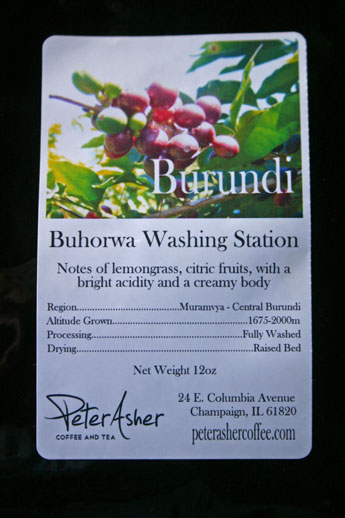 First of all, thank you to the folks at Peter Asher Coffee for sending us some coffee samples.
We could hardly wait to try this coffee because, truth be told, we had never tried a Burundi coffee before.
(If you are wondering, Burundi is a landlocked country in the Great Lakes region of Eastern Africa, bordered by Rwanda to the north, Tanzania to the east and south, and the Democratic Republic of the Congo to the west.)
So we followed our usual routine, grinding the beans just before brewing, and then leaving the coffee to cool for a few minutes before tasting.
What's it like? Well, it is certainly distinctive. It's very different, even when compared to other coffees from East Africa.
And it's different in a good way.
Now comes the tricky part...trying to describe what makes this coffee so different, and so good.
It is strong, but smooth. There is nothing mild or uncertain about this coffee. It has a strong taste and an enduring coffee bitterness. But at the same time it is smooth. There are no sharp edges.
This is rare, because with most beans and roasts, the stronger the taste, the sharper the edges. It's rare to find a coffee that is full strength, but smooth in the mouth at the same time.
This coffee also has a variety of taste notes playing in the background. There is some citrus there. It has sweetness. And a nutty, almost earthy taste.
To make a long story short, we love this coffee. In particular, we love drinking coffee that is strong and bold, but without sharp edges, and without losing some of its more subtle tones.
Great beans and, we suspect, some superlative roasting.
You can learn more about this Burundi Coffee at the Peter Asher Coffee website.