A balanced, smooth peaberry coffee from the Dominican Republic.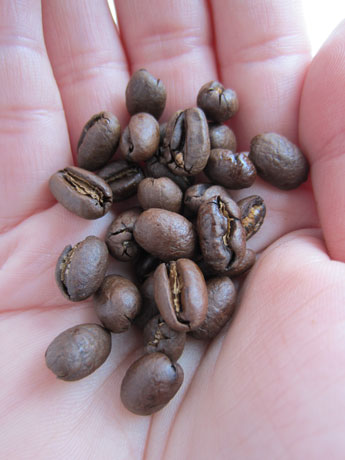 Thank you again to the folks at Peter Asher Coffee for sending us this wonderful coffee.
First a few words about peaberry coffee. What is a "peaberry"?
Coffee trees produce cherries which typically contain two seeds. Open the fruit and you'll find two green coffee beans, face to face.
When the coffee cherries are harvested, between 5% to 10% of the cherries will contain only one bean. Coffee cherries containing just one bean are referred to as peaberries.
You can see in the photo above that the beans are more rounded, without a flat surface on one side.
It's as simple as that.
Is peaberry coffee better than coffee made from regular coffee beans? Well, you'll find a lot of people arguing about that.
But one thing most experts agree on is that a peaberry does taste different.
And that is certainly true of this Dominican Republic peaberry. In fact, my co-taster took a sip and the first word out of her mouth was, "Wow!".
This is a smooth, rich coffee with sweet chocolate tones, some citrus fruit and a welcome touch of bitterness.
So what makes it different? Well, each flavor and tone is balanced, even and consistent.
With some coffees you will taste the bitterness first, or last. You taste the sweetness in one part of your mouth, and the citrus in another.
But with this peaberry coffee, every part of the taste profile fills your mouth at once. It's like a symphony of different tones, but played so you feel every note as part of a balanced whole.
This is a wonderful coffee. Rich and subtle, and unique in its balance.
Highly recommended.
You can learn more about Peter Asher coffees at the Peter Asher Coffee website.
This 9-page report tells you about some of the surprising, and important health benefits of drinking coffee.

 

This report is yours FREE when you sign up for the Coffee Detective Newsletter

"The Health Benefits of
Drinking Coffee"

Sign up below and we'll provide a link where you can download your report immediately.
---