Timor Maubesse organic coffee, by Rockin' Coffee.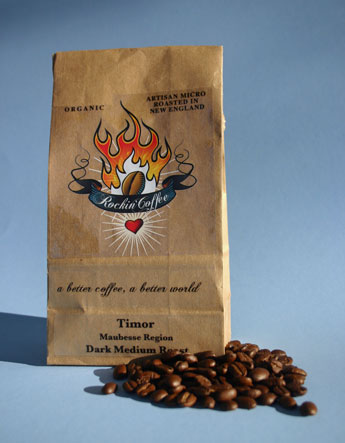 First of all, thank you to the folks at Rockin' Coffee for sending us a few samples.
Rockin' Coffee is a fairly new entry on the scene of artisanal roasters, and we have been looking forward to trying them out.
The first coffee we decided to taste is their dark medium roast Timor Maubesse. Why? Because I don't think we ever tried a coffee from Timor before.
Also, this is an organic, micro-roasted coffee. So we figured that it would give us a good sense of what Timor had to offer. Assuming, of course, the roaster did a good job!
As always, we ground some beans, fresh from the sealed bag, and used our trusty French press to make a single cup of coffee. After pouring, we left the coffee to cool a little before tasting. And, of course, we tasted it black.
Well, it's a beautiful coffee. No doubt about that.
It's smooth at first taste, with no sharp edges or sudden bitterness. Then, as you hold it in your mouth, there's a dance of sweetness – but not too much – a little chocolate – but not too much - and a hint of berry.
All the flavors balance nicely. They are not too strong, but all are present. At this point we have to take our hats off to the roaster, and his choice of a dark medium roast. He – or she - seems to have found just the right roast for these beans, to reveal all the flavors, without one overwhelming any other.
Then, at the finish, an unexpected smoky edge and just a hint of bitterness.
That a beautiful finish to a subtle, smooth and harmonious blend of tastes.
So, a big thumbs up from the both of us.
This is a coffee to be tasted and savoured. It's not what you want for your first wake-up coffee. Reserve it for those times when you have a quiet moment to sit back and enjoy the best that gourmet coffee can offer.
You can learn more about Rockin' Coffee at their website.