The Beginner's Guide to Making Gourmet Coffee at Home – a simple, inexpensive guide to get you started.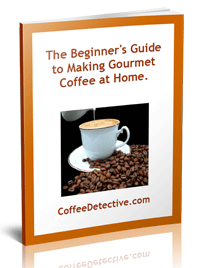 Making coffee isn't a subject that's taught in school. And for some reason the "experts" and manufacturers of coffee makers assume that everyone knows what to do.
Here at Coffee Detective, we know different.
So we have written a simple, 18-page guide to get you started.
Having this guide will be a lot easier than searching for answers to all your questions one at a time.
The first few pages tell you about coffee beans and how to grind them, plus some tips on choosing a coffee maker and making that first brew.
Then the guide moves on to a question and answer format. At Coffee Detective we get plenty of questions from beginners looking for reliable information.
So we have compiled and added the most useful "beginner" questions and answers as part of this guide.
You'll learn important basics, like...
How to choose a coffee maker and grinder
What proportion of coffee and water to use
What temperature the water should be
How long your coffee will last
How to store your coffee beans
And a lot more...
And here's the best part...
After reading this short guide you'll know enough to make coffee that is as good or better than the coffee made by "experts" with hundreds of dollars worth of equipment.
If you get the basics right, making great coffee is simple.
For instance, this image on the right shows the page on which we explain the different ways to grind coffee beans, and how to choose a coffee grinder.
To make good coffee, you DO need a basic body of knowledge. And that's what this guide gives you.
This guide isn't long or complicated. It's an 18-page PDF file which you download onto your computer, and contains the information you need to get started. It is priced at just $7.95.
Buy it now, download it to your computer, print it out and start making some great coffee. If you're not happy with the guide, let us know and we'll refund your money at any time within 8 weeks of the purchase date. No fuss. No quibbles.
Just click the Buy Now button below. You'll then be taken to our PayPal page where you can pay by credit card or through your PayPal account if you have one.
If you have any trouble with the download after completing your purchase, please email me at nick@coffeedetective.com
Good luck with the coffee making!
PDF Download
18 Pages
$7.95
Money-Back Guarantee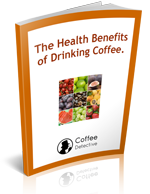 This 9-page report tells you about some of the surprising, and important health benefits of drinking coffee.
This report is yours FREE when you sign up for the Coffee Detective Newsletter
"The Health Benefits of
Drinking Coffee"
Sign up below and we'll provide a link where you can download your report immediately.
---