Upload and share your favorite coffee photos.
Created with flickr slideshow.
Coffee photos? There are a multitude of ways in which you can present coffee in photos.
Maybe a cropped image of a fresh, hot brew in your favorite mug.
Or a shot of friends and family enjoying fresh, gourmet coffee in your kitchen.
Or a coffee bean floating in a glass of flaming Sambuca.
How about coffee being poured from your flash at work, on a cold day?
Or just have some fun.
It's wide open. Use your imagination, take some great coffee photos and upload them here. Just use the form below.
There are two rules:
1. The photo has to include coffee in some way or form.
2. The photo has to be your own, taken by you, or by a family member, with their permission.
(To see the photos submitted so far, scroll down the page past the form.)
Upload your photo here...
Name, describe and upload your own coffee photos.
Photos submitted by other coffee lovers.
Click below to see the other photos submitted so far...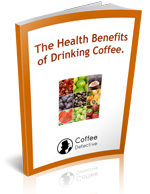 This 9-page report tells you about some of the surprising, and important health benefits of drinking coffee.
This report is yours FREE when you sign up for the Coffee Detective Newsletter
"The Health Benefits of
Drinking Coffee"
Sign up below and we'll provide a link where you can download your report immediately.
---