Coffee drinker and author of the Coffee Detective website.

My name is Nick Usborne - aka the Coffee Detective - and I am the author and owner of this site.
How come? Because I love coffee, and I like to write. In fact, I write for a living. I have been a marketing writer for over 30 years.
When I began writing Coffee Detective 6 years ago it was just as a hobby. I wanted to see what happened if I kept up the writing.
After a while the site began to attract quite a few visitors and I discovered that while enjoying myself writing new pages, I was also beginning to earn a small second income.
This allowed me to spend more time developing the site, getting into conversation with coffee drinkers, and connecting with professionals and companies in the coffee business.
In the months and years ahead I plan to continue adding new and useful information to the site, but also to branch out a little and broaden the scope of the coffee news I share.
For example, I'm going to travel a little more, visiting coffee roasters and attending conferences. Also, and this is still in the planning stage, it looks like I'll be flying to Jamaica later this year to write a lengthy feature on Blue Mountain coffee. I'll be visiting farms in the Blue Mountains, and the processing and roasting facilities that transform the harvested cherries into the beans you and I buy.
UPDATE: The trip happened and I had an amazing time. See photo below.
In a nutshell – or a coffee cherry – I have big plans for Coffee Detective!
Best wishes,
Nick Usborne
P.S. If you are in the coffee business, be sure to check out my business page for information on coffee and coffee equipment reviews, customer surveys and more.
Keep up with the latest news by following Coffee Detective on social media.
About the author: Nick Usborne, aka Coffee Detective, is a writer and long-time coffee enthusiast. Read more…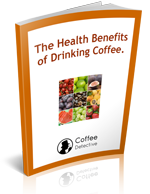 This 9-page report tells you about some of the surprising, and important health benefits of drinking coffee.
This report is yours FREE when you sign up for the Coffee Detective Newsletter
"The Health Benefits of
Drinking Coffee"
Sign up below and we'll provide a link where you can download your report immediately.
---