Home delivery coffee clubs – have your coffee delivered to your home.
Coffee clubs have been around for quite some time, and certainly offer some useful benefits.
Advertisement:
Here's how it works:
You sign up, and usually get some kind of gift as a thank you. You then choose the coffees you like, set the frequency for your home deliveries, hand over your credit card information...and that's just about it.
It's a great idea if the amount of coffee you consume each month is fairly constant.
And even if it isn't, most coffee clubs allow you to change the frequency of deliveries at any time.
They will also allow you to change your choice of coffees. So just because you selected a particular coffee or group of coffees for one month, doesn't mean you can't change it for the next.
How do you choose which coffee club to join?
Our advice is to first of all make sure you going to be able to choose from a broad selection of quality gourmet coffees.
In other words, first choose the coffee roaster or store, and then sign up for their club.
Some of the bigger coffee companies that offer regular home delivery.
George Howell Coffee (These are all very high-quality coffees, and are priced accordingly.)
Advertisement:
And there are some newer, smaller coffee suppliers getting into the home delivery business.
These are entrepreneurial startups, focusing on taste and quality. And don't always expect them to give you a wide choice of coffees to choose from. Some just send you what's great that particular week or month.
Enjoying great coffee can be about being surprised sometimes.
Atlas Coffee Club (Read our review of them here.)
Brothers Coffee Company (Read our review of them and one of the featured coffees here.)
Joe's Brew Club (You get delivery of both coffees and biscotti. Great idea! Our hands-on review here.)
Angels' Cup (You get coffee in sample-size packs, plus a tasting app to help you taste each coffee like a pro. Our review here.)
Drift Away Coffee (Try different coffees, then use their site to let them know which ones you like best. See our review of one of their coffees here.)
Bean Box (We have tried a few of their coffees. See one our reviews here.)

We like these newer companies and will add more to the list when we come across them.

Read our no-nonsense coffee reviews...
All our coffee reviews are written in plain English, and are not paid for. We just call it as we taste it. See all our coffee reviews here...
You might also be interested in...
How to choose an online coffee store...
Learn more about finding the best gourmet specialty coffee...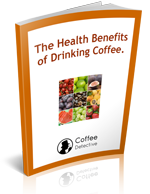 This 9-page report tells you about some of the surprising, and important health benefits of drinking coffee.
This report is yours FREE when you sign up for the Coffee Detective Newsletter
"The Health Benefits of
Drinking Coffee"
Sign up below and we'll provide a link where you can download your report immediately.
---