The Coffee Photo App has run its course.

As an experiment, we created a coffee photo app and published a new coffee photo five days a week...for a couple of months.
Sadly, very few people installed the app, so we closed it down.
However, if you are one of the few who enjoy a good coffee photo, you can get into the habit of checking out the coffee photos page on this site.
Once a week we add a new "photo of the week" to our homepage, and then retire it to the coffee photos page a week later.
Advertisement: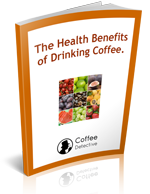 This 9-page report tells you about some of the surprising, and important health benefits of drinking coffee.
This report is yours FREE when you sign up for the Coffee Detective Newsletter
"The Health Benefits of
Drinking Coffee"
Sign up below and we'll provide a link where you can download your report immediately.
---