Grind and Brew Coffee Makers – from bean to cup in one process.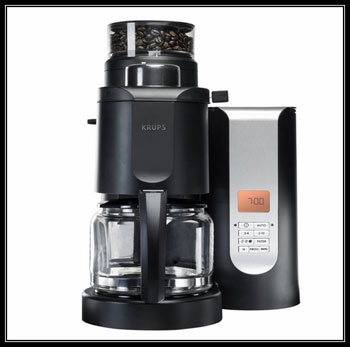 What are grind and brew coffee makers? They are coffee brewers which also include a grinder.
Advertisement:
You simply fill the reservoir with water, add whole beans to the grinding basket and press the button.
The beans are ground and immediately after, hot water drips through the grinds and your fresh coffee pours down into the carafe.
The benefits of grind and brew...
First, you save on counter space, as the grinder is included with the brewer. So there is just one machine to deal with.
Second, the water dips through the coffee grinds immediately after grinding, so you are assured there will be no loss of flavor between grinding and brewing.
Third, there's a lot less mess when you make a pot of coffee. No spilled beans. No ground coffee on the counter. Not wet and messy paper filters. And so on.
Which grind and brew coffee maker to choose...
The choices are a little limited, but there a few to choose from
Here at Coffee Detective we use a Melitta Mill and Brew coffee maker.
We have had it for a few years now, and it's still going strong. It has a blade grinder, not a burr grinder. But we haven't found that this has any discernable impact on the taste.
If you would rather have a grind and brew brewer with a conical grinder, there are one or two of those available too.
To help you choose, we have put together a small Amazon.com store, devoted just to grind and brew coffee makers.

Which coffee maker is best for you and your home?
Drip brewers, single serve brewers, pour-over brewers, the French press. So many choices! Find out which is best for you...
Advertisement: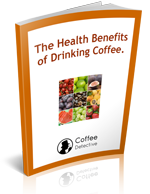 This 9-page report tells you about some of the surprising, and important health benefits of drinking coffee.
This report is yours FREE when you sign up for the Coffee Detective Newsletter
"The Health Benefits of
Drinking Coffee"
Sign up below and we'll provide a link where you can download your report immediately.
---