How to measure coffee to make the perfect brew.
It isn't always easy to measure coffee and get the proportion of coffee to water exactly right.
For a start, there are some variables. For instance, how finely ground is the coffee? The same measure of finely ground coffee will deliver a stronger cup of coffee than a measure of coarse ground coffee.
Advertisement:
To further complicate things, some of the instructions provided by coffee experts go something like this:

"Add .36 oz or 10 grams of ground coffee per 6 oz cup."
And what, one might ask, does .36 oz of ground coffee look like? And what is a 6 oz cup?
Let's start with a simple review of cup and mug sizes.
A coffee CUP (same size as a tea cup) is about 6 fluid ounces.
A coffee MUG contains closer to 8 or 9 fluid ounces.
As for measuring 0.36 oz of coffee, my strong recommendation is that you get yourself a standard coffee scoop.
You probably got one with the last brewer you purchased. If not, buy one.
A coffee scoop filled level contains two tablespoons of coffee. And two tablespoons is what you need for a 6 fluid ounce cup of coffee.
But...tablespoons seem to come in a variety of different sizes. Which is why I recommend people get a coffee scoop.
Once you have your coffee scoop, you'll always know you are measuring the same amount.
Or, if you want to be really precise, you can get some scales that are precise enough to weigh your coffee to the nearest gram, or better.
So you add...
1 coffee scoop of ground coffee for every 6 fluid ounces of water (for cups)
Or
1 1/3 coffee scoops for every 8-9 ounces of water (for mugs)
Advertisement:
This means that if you have an 8-cup coffee maker, you want to pour 8 x 6 ounce cups of water in the reservoir and 8 level scoops of coffee to the filter basket.

And so on.
If you like your coffee a little stronger, you'll soon figure out how much more coffee to add for each brew.
For instance, if you like strong coffee and make enough for 8 x 6 ounce cups, you might end up using ten 10 or 12 scoops instead of 8.
Experiment a little and see what suits your taste the best.
Just keep that coffee scoop close by. It makes it a lot easier to measure coffee, whether you are making one cup or a whole pot.
And when you do measure the ground coffee and water precisely, you'll probably be amazed by the quality of the coffee. A lot of the time people use too much water for too little coffee. The result is a weak brew that always disappoints.
More on measuring and making coffee:
Using digital scales to weigh your ground coffee.
This coffee grinder can be set to make the exact amount of ground coffee for your next brew.
Tips on how to make great coffee.
Advertisement:
About the author: Nick Usborne, aka Coffee Detective, is a writer and long-time coffee enthusiast. Read more…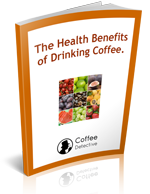 This 9-page report tells you about some of the surprising, and important health benefits of drinking coffee.
This report is yours FREE when you sign up for the Coffee Detective Newsletter
"The Health Benefits of
Drinking Coffee"
Sign up below and we'll provide a link where you can download your report immediately.
---