Our review of an Ethiopia Banko Gutiti, courtesy of Crema.co.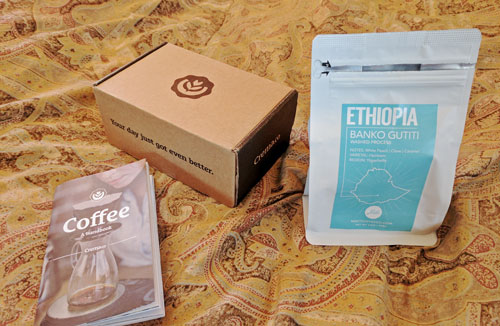 Nice shipping box, excellent coffee and a really good guide to coffee origins, coffee processing and how to brew to get the best flavors.
Many thanks to Ruth at Crema.co for sending us some coffee to try.
Crema.co is a coffee subscription service, and the coffee they sent us was an Ethiopia Banko Gutiti from Mast Coffee.
We've written about a few coffee subscription services over the last couple of years, and Crema.co follows a fairly traditional model.

That is to say, you choose your coffee, the frequency of delivery you want, and then pay a regular subscription to keep the coffees coming.
That said, Crema.co does have some unique features you might enjoy.
First, you create a Brewlist of favorite coffees, in the same way you would put together a Playlist of songs on your phone.
The coffees you get through the mail are then drawn from this personal Brewlist you created. And like I said, you can choose the amount of coffee you want and the frequency of deliveries.
On top of that, the service also has a "Pause" function. So if you're going to be away for a while, or simply have too much coffee in the cupboard, press Pause.
(These guys definitely seem to be drawing from the features of a mobile music app!)
One other thing...
Crema.com doesn't roast their own coffees. They source coffees through high-end, independent, small-batch coffee roasters.
In other words, they are coffee curators. As curators, they get to express their own values and beliefs when deciding on which roasters and coffees to include as part of their service.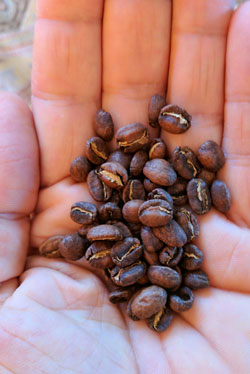 And a big part of that seems to be their dedication to supporting coffee-growing communities.
We like what these guys are doing, and you can check them out at Crema.co.
And now for the coffee... that Ethiopia Banko Gutiti from Mast Coffee.
The beans are from the Banko growers cooperative in the Yirgacheffe region of Ethiopia, and have been medium-light roasted.
As always, we ground the beans fresh, just before brewing. Then we let the coffee sit for two or three minutes before tasting. Not too hot, but hot enough.
Yirgacheffe coffees are famous for their "fruit and flowers" taste profiles, and this coffee fits that profile nicely.
The acidity is light, and the chocolate tones subdued, with most of the sweetness coming from the fruits. We tasted orange and lemons plus a hint of spices and nuts. Cinnamon? Almonds?
As with most well-roasted Yirgacheffe coffees, this delivers a full range of flavors, carried on a foundation of light acidity, without being either too strong or too mild. Lots of complexity, with a smooth mouth feel. Very nice!
You can add this coffee to your Brewlist as a Crema.co subscriber.
If you want dip your toe in the water first, they offer a free coffee sampler to new subscribers.
And you can check out Mast Coffee here.

Read our no-nonsense coffee reviews...

All our coffee reviews are written in plain English, and are not paid for. We just call it as we taste it. See all our coffee reviews here...

NOTE: This product was sent to us free in return for a review. (That said, we always reserve the right NOT to review a free product if we don't like it, or feel you wouldn't like it.)
Before you go, sign up to receive the Coffee Detective Newsletter...
Sign up for occasional newsletters about the best coffees and brewing equipment. Plus special updates from the Coffee Detective Coffee Store…