El Salvador Santa Maria coffee – a bold and naturally sweet coffee with chocolate and berries.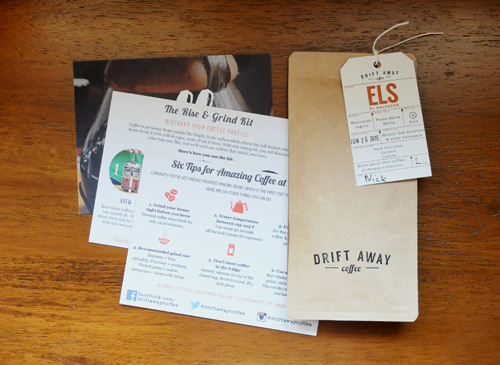 We reached out to the folks at Drift Away Coffee because we are interested in subscription coffee clubs, and really liked the look of what Drift Away was doing.
Lucky for us, they read our email and next thing we knew a package arrived at our doorstep. Inside were four sample 2-ounce packs of coffee, each of them single-origin and sourced from different parts of the world.
First impressions count for a lot. And Drift Away makes a great first impression. The packaging is top notch. Quality, airtight, packs you can reseal, and an old-school tag that gives you details on the coffee inside.
The tag information is great and includes detailed information on the origin of the coffee, and the roasting date. In our case the coffees were roasted just three days before we received them. Super fresh.
The subscription coffee club market is getting pretty busy. But I think these guys will do just fine because they seem to be obsessive about quality and detail.
The idea is that you taste the four coffees and then return to their site to let them know which you liked best. They then adjust future shipments to reflect your taste preferences.

That's a pretty neat way to do things. As a subscriber I get to try plenty of new coffees, but don't get sent the kinds of coffees I'm unlikely to enjoy.

Anyway, the first coffee we tried was the El Salvador Santa Maria.
As always, we ground it fresh and then brewed it in our trusty Bonavita drip brewer.
This is a medium/dark roast coffee. Dark enough to bring out a bold mouthfeel and a natural sweetness, but no so dark that the finer flavors have been burned off.
Even before our first sip we found the aroma to be fruity, with a melted sugar sweetness.
The taste matched the aroma, although the melted sugar morphed into caramel, and that fruity sweetness was complemented with a note of dark chocolate.
The fruit taste is more berry than citrus, and it is balanced with a touch of dry nuts.
Overall, we loved the coffee. A good find for us, as we have very little experience with coffee from El Salvador.
And I guess that's what Drift Away is all about... giving you the chance to find unexpected gems from around the world.
We'll be trying the other three coffees soon. In the meantime, if you love great coffee and have an adventurous spirit, check out the Drift Away website.
NOTE: This product was sent to us free in return for a review. (That said, we always reserve the right NOT to review a free product if we don't like it, or feel you wouldn't like it.)

Read our no-nonsense coffee reviews...

All our coffee reviews are written in plain English, and are not paid for. We just call it as we taste it. See all our coffee reviews here...

About the author: Nick Usborne, aka Coffee Detective, is a writer and long-time coffee enthusiast. Read more…
Before you go, sign up to receive the Coffee Detective Newsletter...
Sign up for occasional newsletters about the best coffees and brewing equipment. Plus special updates from the Coffee Detective Coffee Store…