Our review of Trailhead Coffee Roasters' Guatemala Coffee, by way of Brothers Coffee Company.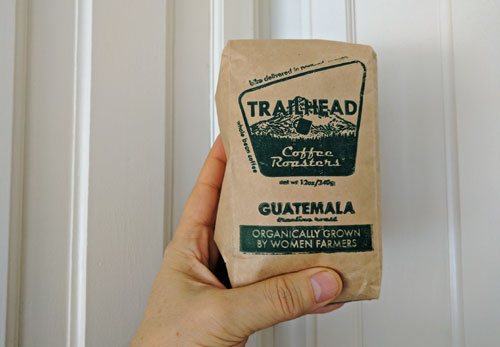 There are two layers to this review... and two coffee companies to talk about and thank.
First up, thank you to Matthew Little, the founder of Brothers Coffee Company.
Brothers Coffee offers a coffee subscription service. You sign up to receive one, two or three 12oz bags of coffee each month.
Matthew's idea, or mission, is to source and deliver small batch, ethically sourced coffees direct to the you, the coffee lover.
And he chooses coffee roasters who share his belief that coffee growers should be paid more than they typically are, and that the coffee business as a whole shouldn't have an adverse effect on our environment.
Here's a short video that explains what Brothers Coffee does, and why.
This month's featured coffee comes from Trailhead Coffee Roasters from Portland, Oregon.
These guys are definitely on board when it comes to sharing Matthew's mission. Even their coffee bags are printed one at a time, by hand, on their own premises. All local deliveries of their coffees are done by bike. Pedal bike, not motorbike!
And the Guatemala coffee we were sent to review is organically grown by women farmers on small scale coffee farms.
Coffee with a conscience, from the tree to the cup.
Now for the tasting...
As always, we ground the coffee beans immediately before brewing. As you can see from the photo, these are medium roasted beans. Not too dark and not too light.
The aroma is light, with the promise of a hint of chocolate.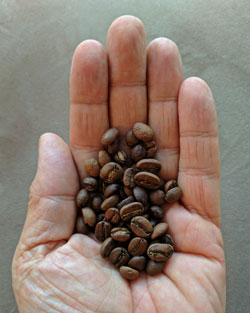 The taste is fairly mild, as we would expect both from the growing region and the roast.
First you get a touch of that chocolate, and maybe a hint of light caramel. As the flavors blooms in your mouth, the first taste is followed by sweet berries and finally a touch of citrus.
Back to the chocolate taste. Often we find coffees – usually darker roasted coffee – have a dark chocolate flavor. That's not what we found in this coffee. 
First, the flavor is lighter, more subtle, quickly giving way to those fruit notes.
Second, if we had to characterize the chocolate flavor we'd say it's more like those chocolates you can buy that are sprinkled with salt. 
It's a subtle difference, but one that gives this coffee a unique taste profile.
It's probably not the coffee I would reach for first thing in the morning. But I can definitely see myself enjoying it later in the morning, or paired with a light lunch.
This is a coffee to be savored, not to be gulped down for its caffeine content!
Here are some links you might like to follow...
Brothers Coffee Company for info on their subscription service.
An interview with Matthew Little on the Huffington Post website.
Our page on coffee clubs and subscription delivery services. 

Read our no-nonsense coffee reviews...

All our coffee reviews are written in plain English, and are not paid for. We just call it as we taste it. See all our coffee reviews here...

NOTE: This product was sent to us free in return for a review. (That said, we always reserve the right NOT to review a free product if we don't like it, or feel you wouldn't like it.)
Before you go, sign up to receive the Coffee Detective Newsletter...
Sign up for occasional newsletters about the best coffees and brewing equipment. Plus special updates from the Coffee Detective Coffee Store…