The best drip coffee makers - and what to look for before you buy.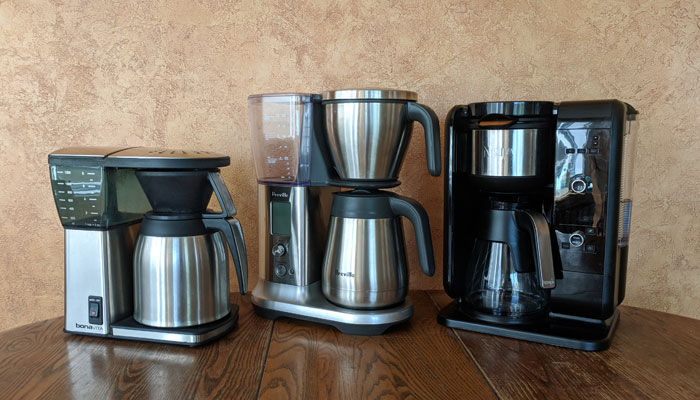 Nobody talks much about drip brewers these days.
Mostly the focus is on single-serve coffee makers.
And then there are real coffee enthusiasts who would rather talk about their French press, Chemex brewer or Hario dripper.
Drip coffee makers have that old-school feel about them. Not as old-school as percolators, but getting close.
And that's a pity, because there is no reason why a good drip coffee makers can't make coffee that's just as good as you can make with a fancy pour-over system.
In fact, a drip brewer IS a pour-over system.
Think about it for a moment. Water is sprayed over ground coffee placed in a conical or flat-bottomed filter. Gravity pulls the water through the ground coffee, and then it drips into a carafe.
The only difference between a drip brewer and a Chemex is that drip brewers automate the process.
It's the coffee-making automation that most people care about…
If you're a hard-core coffee lover and you want to enjoy every aspect of a new batch of single-origin Fair Trade coffee beans you just purchased, then a manual coffee making method is the way to go.
For the true enthusiast, making the coffee by hand – step by step - is part of the experience.
But for most of us, most of the time, coffee is all about that 30-minute period after we get out of bed in the morning.
We're sleepy, we have to get ready for work, and we absolutely want our coffee made at the press of the button.
This is why the popularity of single-serve brewers has taken off in recent years. They make the coffee-brewing process incredibly easy.
But… at a cost in terms of quality, taste and price.
Making coffee one K-Cup at a time is ridiculously expensive when compared with making coffee with a drip coffee maker. And the quality is never quite there either.
Not to mention the fact that billions of used K-Cups end up in landfills every year.
All this makes the humble drip brewer the best choice for most of us.
What to look for when choosing a drip coffee maker.
A drip brewer will set you back as little at $25 and as much as $300 or more.
But if you're looking for an automatic brewer that can approximate the quality of pour-over coffee, you're going to want to spend at least $100.
And you'll want to be sure to check for a few key features.
1. Make sure the brewer can heat the water to the right temperature.
To extract the flavor from the ground coffee the water should be between 195 and 205 degrees Fahrenheit.
Cheaper brewers often fail to get within that range. And even some of the better brewers don't deliver a consistent temperature.
Something else to look for is the ability to adjust the temperature up or down within that range. You can do that when making pour-over coffee, and some drip coffees makers allow you to make those same adjustments.
2. Make sure the brewer pauses to allow the coffee to soak and bloom.
Cheap drip brewers pump the water without pause. Better models pause after pouring just enough water to soak the ground coffee, but without water dripping through into the carafe.
The "bloom" is when carbon dioxide is released from the ground coffee after it's soaked. You can see this happen when you're making pour-over coffee by hand, but not when the process is hidden with a drip brewer.
The point being, it's important that the drip brewer pauses for a bit after that first soaking. You want all the ground coffee to be evenly soaked to get the best flavor. Only then is the rest of the water pumped through the "shower head" and over the coffee.
3. Be sure the brew time is correct.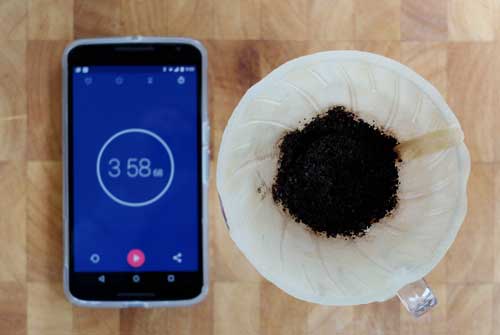 The total time the water and ground coffee is in contact should be between 4 and 6 minutes. Less than that and you won't get the full flavor. Longer and you could get an over-steeped, bitter taste.
Top-end drip brewers allow you to adjust the time.
4. Look for any other features that are important to you.
As well as checking that your drip coffee maker is capable of brewing really good coffee, you want other features because, well… you just want them!
Maybe you want to be able to pre-program your brewer, so it makes coffee automatically, just before your alarm goes off in the morning.
Or you want a brewer that can also make iced coffee or cold-brew coffee.
Or you want an insulated carafe, rather than a glass carafe.
Or you want to be able to make concentrated coffee for use in specialty coffee drinks.
The point is, there are tons of different features you can choose from.
Just set your own priorities and do some comparison shopping.
Our top three drip coffee makers… and why we like them.
Over the years we've reviewed maybe a dozen or so different drip coffee makers.
Here are our three favorites. These are the brewers we have used for months or years at a time. All have taken pride of place on our kitchen counter at some point.
The Breville Precision Brewer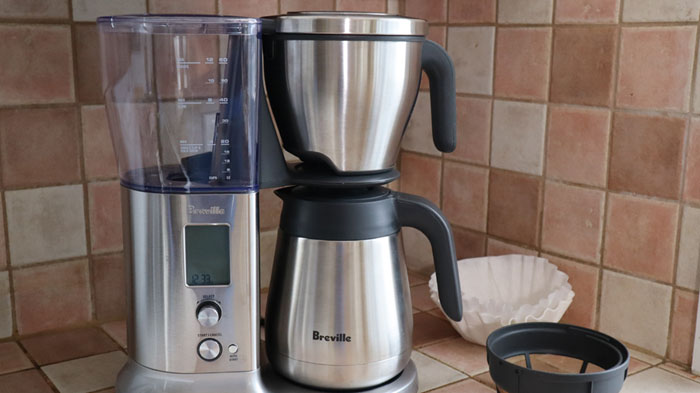 This is our current favorite. It does pretty much everything.
It covers all the bases when it comes to quality, including the ability to adjust the temperature of the water, the bloom time and the brew time.
And it has settings for iced coffee, cold-brew coffee and more.  
You can see our video review of the Breville Precision Brewer here…
The Bonavita BV1800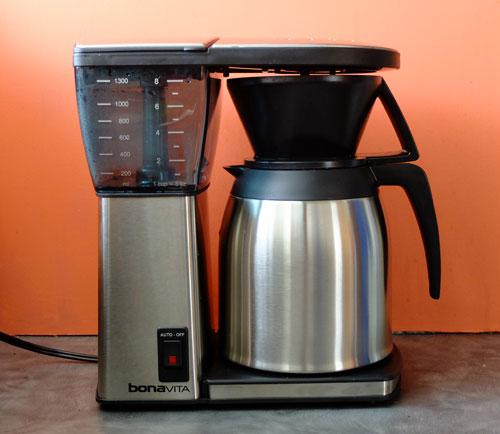 Until we fell in love with the Breville brewer, the Bonavita was in daily use for maybe 5 years.
Very simple with hardly any settings. But the factory settings were just right for making a quality carafe of coffee.
The Ninja Hot and Cold Brewed System
This another drip coffee maker with a ton of different options.
And I use it every day.
I know, I said I used the Breville too.
I do. I use the Breville to make our daily pot of coffee. And I use the Ninja to make a coffee-concentrate version of a cappuccino each afternoon. It even includes a milk whisk.
And my daughter uses it to make green tea.
In fact, I could easily use the Ninja for all my coffee and tea making needs.
Watch our video review of the Ninja here…
The OXO Brew 8-Cup Coffee Maker

The Oxo Brew 8-Cup Coffee Maker is a home brewer certified by the Specialty Coffee Association (SCA). Read the full review here...
It's worth doing the research before you buy a drip coffee maker.
Drip coffee makers are way better today than they used to be.
Sure, you can still pick up budget brewers at any big box store.
But if you love coffee, and want a quality usually associated with hand brewing methods, it's worth spending a little more.
Do the research. And yes, any of our three recommended brewers will do the job.
Before you go, sign up to receive the Coffee Detective Newsletter...
Sign up for occasional newsletters about the best coffees and brewing equipment. Plus special updates from the Coffee Detective Coffee Store…