The best coffee-making gear.
For coffee-making gear, check out our Amazon store.
Amazon is a great place to find just about all the coffee-making gear you could ever want. And at a good price too.
But how do you choose the equipment that's right for you and your home?
And how can you trust the reviews and recommendations you find on each product page?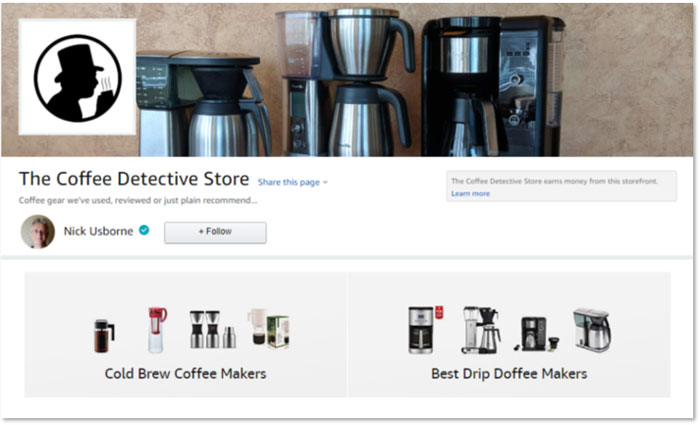 This is why we created an Amazon store with products we have tried and reviewed.
Over the years we've reviewed dozens of coffee makers, coffee grinders, espresso machines and more.
And now we've curated that list and put together our own store on Amazon.
As you can see below, we've organised everything into its own section or department, just like in a real store.
And as time goes by, we'll be adding more sections.
Has the Coffee Detective team tried and reviewed everything in our store?
Almost, but not quite.
The majority of the products we recommend have been reviewed by us. In fact, you can do a search on this site and find our reviews.
We've included a few products we haven't tried. We've done this to fill gaps in our own hands-on experience. And we've included only those products that have overwhelmingly positive reviews.
Scroll down and choose the section that interests you the most right now.
Or browse our entire Amazon store here...
Cold Brew Coffee Makers
Recommended cold brew coffee makers…
Best Drip Coffee Makers
Recommended drip coffee makers…
Single Serve Coffee Makers
Recommended single serve coffee makers…
Best Hands-On Coffee Makers
Recommended hands-on coffee makers…
Best Coffee Grinders
Best Espresso Machines
Recommended espresso machines...
Before you go, sign up to receive the Coffee Detective Newsletter...
Sign up for occasional newsletters about the best coffees and brewing equipment. Plus special updates from the Coffee Detective Coffee Store…