Coffee drinks of every type, for every occasion.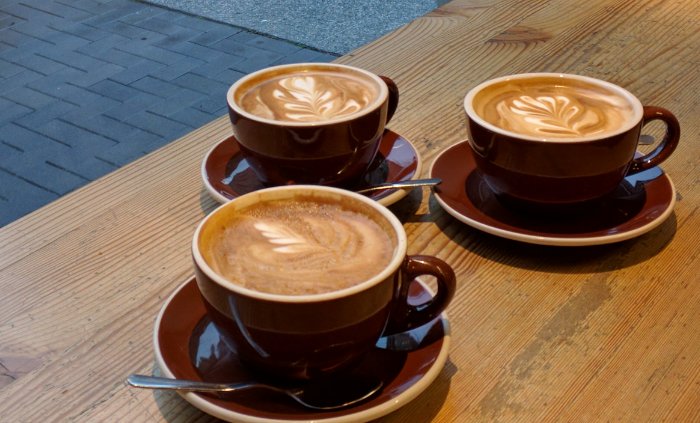 Alcoholic coffee drinks, hot winter coffee drinks, espresso based drinks, cold coffee drinks...and more. You'll find them all here.
Coffee drinks can be sweet or spicy, invigorating or relaxing, light or heavy...even alcoholic.
Some are warming for a cold winter's evening, others cool us down on a hot summer's day.
Perhaps we take it for granted that there are so many different coffee drinks we can make, with such a broad variety of tastes.
But if you think about it, coffee is unique in the range of choices if offers us. How many different variations, for instance, are there to a cup of tea?
We have categorized the various coffee drinks in separate areas, although there may be some overlap between each.

9 Amazing alcoholic coffee drinks.

Alcoholic coffee drinks recipes for after-dinner treats. If you have the liqueurs and the coffee, we have the recipes.


Hot winter coffee drinks.

Try some of these hot winter coffee drinks recipes for those long Fall and Winter days. Find them here...


Espresso based coffee drinks

How to make cappuccino, latte, caffe mocha and other espresso-based coffee drinks. Full instructions here...

Iced coffee drinks.
There is no need to go out and buy expensive iced coffee drinks. You can easily make them at home. Here are 3 ways...

Cold coffee drinks for summer.
Here are some cold coffee drinks recipes to keep you refreshed during the hot months of summer. Recipes here...

Coffee Jelly and other uses for leftover coffee.
Making coffee jelly is a great use for leftover coffee, and tastes good too. Check out the recipe plus other uses for leftovers.  Recipes here...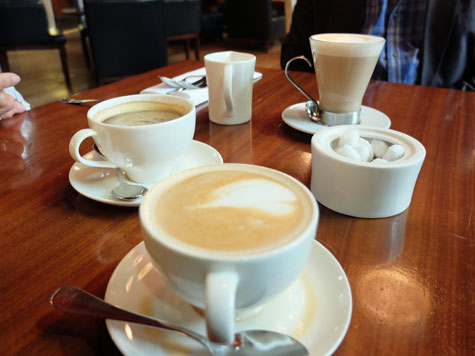 Coffee with friends...working anti-clockwise...a Latte, Cafe Americano and a Cappuccino.
About the author: Nick Usborne, aka Coffee Detective, is a writer and long-time coffee enthusiast. Read more…
Before you go, sign up to receive the Coffee Detective Newsletter...
Sign up for occasional newsletters about the best coffees and brewing equipment. Plus special updates from the Coffee Detective Coffee Store…