Ask your questions about coffee, coffee makers, and making coffee at home.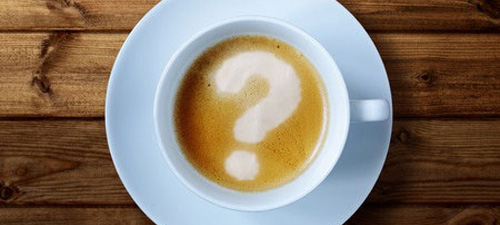 Whatever questions you may have about coffee, making coffee, coffee brewers, coffee grinders – or anything else related to enjoying your favorite brew – ask them here.
We'll do our best to answer you as quickly as we can.
If we don't answer your question, the most likely reason is that we have answered the question before. Occasionally it's because the question is outside the scope of this website, or of our knowledge.
3 Ways to get your coffee questions answered.
First - scroll down through the full list of dozens of other questions and answers you'll find on this page

Or - complete the form below where you can ask your own question.
Or - for a quick taste - check out our "best of" coffee questions and answers page here.
Ask your question about coffee.
Ask anything you like - whether it is about how to make coffee, what kind of brewer to use, or just about anything else.
Coffee questions other people have asked...
Recently we have started to archive older questions and answers. You can find coffee questions and answers from 2007 here, the coffee questions archive from 2008 here and coffee questions archive from 2009 here.
You may also want to check out our growing compilation of the most interesting and valuable comments from our community of coffee lovers.
About the author: Nick Usborne, aka Coffee Detective, is a writer and long-time coffee enthusiast. Read more…

If the coffee you once loved is no longer hitting the spot, try one of our Coffee Detective gourmet coffees.
Yes, we have our own coffees!
Take your pick from a few of our favorites. They are roasted fresh when you order them, and delivered free anywhere within the continental USA.
You can find our complete collection of coffees at the Coffee Detective Gourmet Coffee Store.
But feel free to start here, with a choice from a few of our favorite coffees - whole bean or ground.
And before you go, subscribe to the Coffee Detective Newsletter...
Sign up for occasional newsletters about the best coffees and brewing equipment. Plus special updates from the Coffee Detective Coffee Store…