How to make iced coffee at home...
Go back a few years and only a few people drank iced coffee, or any kind of cold coffee drinks.
Then iced coffee drinks began to appear in bottles in the supermarket.
Next, coffee shops, cafes and restaurants got into the act. According to data from the market research firm NPD Group, in 2010 Americans ordered 500 million iced coffee drinks in restaurants and cafes, up from 400 million in 2006.
That's all well and good, but what about making iced coffee at home?
It seems that chilling out with a coffee at home is growing in popularity too.
Essentially, there are three ways to make cold coffee drinks at home.
1. Make coffee in your drip brewer and cool it in the fridge.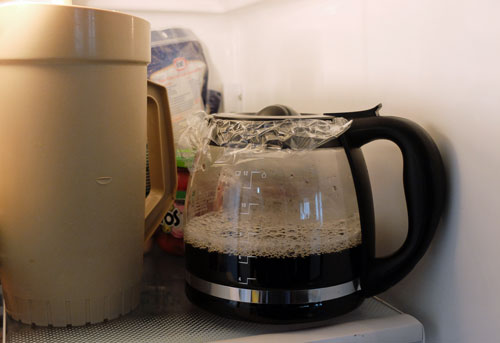 This is the simplest and least expensive way. Simply brew a full carafe of coffee in your regular brewer, let it cool, and then store it in the fridge for when you need it.
When you are ready for a nice iced coffee, fill a glass with ice cubes and pour in the cold coffee. Add cream and sugar to taste.
There is only one thing you need to do differently, and that is to make a stronger brew than usual. In other words, use more coffee grinds and less water.
Why? Because the ice cubes, as they melt, will quickly begin to dilute the coffee and drown its taste.
2. Get yourself a cold brew coffee maker.

There are a few companies which now sell cold brewing systems.
For example, both the the Hario Mizudashi Cold Brew Coffee Pot, and the Toddy Cold Brew System are designed to brew coffee with regular coffee grinds and cold water.
Both systems take about 24 hours to complete the cycle, and create a coffee concentrate you can then keep in the fridge and use to make your iced coffee drinks.
Cold brewing systems offer the additional advantage of making coffee which is less acid – good news for coffee lovers with delicate stomachs.
If you are wondering about the quality of the brew, you might be interested to know that Seattle's Best coffee shops use the Toddy system for the cold coffee beverages they make and sell in their stores.
Cold Coffee Definitions: 
Iced Coffee and Cold Brew Coffee are not the same thing.
Iced coffee is any cold coffee with ice added, even if the coffee was made in a regular coffee maker and then cooled.
Cold Brew Coffee describes a way of making coffee. The coffee is made with cold water from the outset, and the process takes from 18 -24 hours. It was never hot.
3. Make iced coffee drinks with a base of espresso.

If you want to make an iced latte, or something similar, you start off by making one or two shots of espresso.
Put the espresso in a tall glass with ice. Add cold milk and syrup for flavor, or sugar. And you're good to go.
There are numerous variations on this recipe. For something a little different, pour everything into a blender and you'll get something more like an iced latte smoothie. Maybe add some cream and sprinkles on top!
4. Make iced coffee with your Keurig brewer.

If you own a Keurig brewer, you can now buy special
Brew Over Ice K-Cups
.
You simply add ice to a glass and then use your brewer in the same way as always. The ice quickly cools the coffee and you have a nice cold coffee drink.

What is different about the new Brew Over Ice K-Cups? As you have probably guessed already, they contain more coffee than regular K-Cups, to take into account the diluting action of the melting ice cubes.
Summing up...

However you choose to make your iced coffee, or any other type of cold coffee beverage, making it home is a lot more convenient, and a lot less expensive that buying it at a coffee shop or restaurant.

And, as with your regular coffee drinks, you can experiment with different coffees and blends, until you find the one that makes the best iced coffee.
Finally, as you can see from the photo below, there are now several companies selling cold-brew coffee in bottles or cans.
Check out some cold-brew coffee making on a larger scale.

In the photo below you can see an entire wall devoted to cold-brew coffee making. The slow-drip process takes about 20 hours. This is at the COFFEED coffee shop in Chelsea, NYC. Pretty darn cool.

And here is a closeup view of the cold-brew brewers themselves.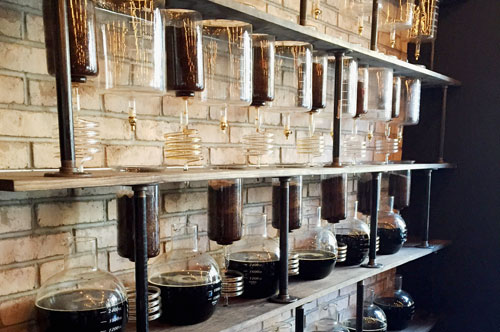 More articles on cold coffee drinks:

Review of the Asobu cold-brew coffee maker.
My first glass of nitro coffee.

Our demo of the Hario Mizudashi Cold Brew Coffee Pot

Try these cold coffee drinks recipes.
How to make coffee with the Toddy Cold Brew system.
Keep your iced coffee strong by using frozen coffee ice cubes.
Cold-brew coffee with chicory and anise.
About the author: Nick Usborne, aka Coffee Detective, is a writer and long-time coffee enthusiast. Read more…
Before you go, sign up to receive the Coffee Detective Newsletter...
Sign up for occasional newsletters about the best coffees and brewing equipment. Plus special updates from the Coffee Detective Coffee Store…