Coffee photos of the week...
After spending a week in the spotlight on the homepage, each coffee photo of the week moves over here and relaxes.
Some are taken by me, some by friends and family, and some were submitted by friends of Coffee Detective.
Combined they capture a glimpse of our ongoing fascination with all things coffee.
For even more great coffee photos, follow us on Instagram.
Or on your smartphone @therealcoffeedetective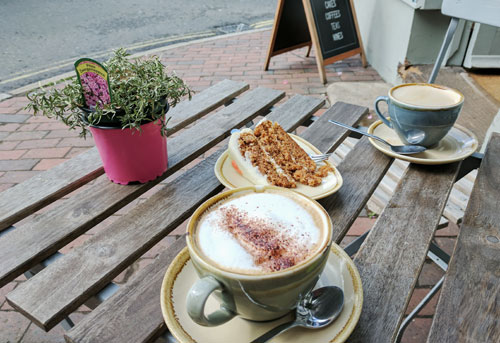 A really nice display of coffee bags and more at the Café 8 OZ. coffee shop on Rue St-Hubert, Montreal.
While plenty of coffee lovers look down their noses at the coffee percolator, there others who feel there is no better way to make great coffee.
Page 2 of our weekly coffee photos...

Page 3 of our weekly coffee photos...
Coffee photos from my travels...
More coffee photos...

Amazing outdoor coffee photos.

A collection of coffee photos, taken outdoors in different parts of the world. With some amazing locations. See the photos...


10 Photos that follow coffee's journey from the tree to your cup.

I guess most of us take our morning coffee for granted. But the process of growing coffee, processing it, shipping it, roasting it and brewing it is long and arduous.

I tell the story in a sequence of 10 photos...

Coffee art photos for lovers of the bean.

There is coffee art in the form of latte art, and then there is coffee art in the way we place it and see it in our homes and elsewhere. See the photos...

About the author: Nick Usborne, aka Coffee Detective, is a writer and long-time coffee enthusiast. Read more…