The bestselling coffee maker is...the Mr. Coffee BVMC-SJX33GT 12-Cup Programmable Coffeemaker.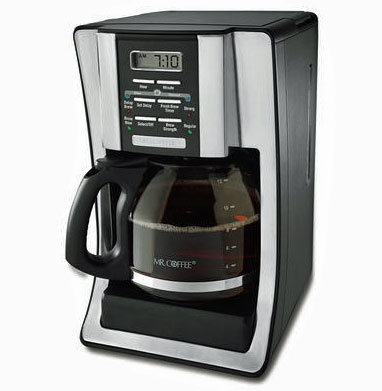 First things first. I'm not saying this is necessarily the best coffee maker. I have my own opinion on that.
But this Mr. Coffee brewer is the #1 bestseller on Amazon. And that's got to count for something. Actually, last time I looked the number one spot was taken by a Cuisinart brewer. So it looks like Mr. Coffee is doing something right.
This is a straightforward drip brewer. It doesn't grind beans or anything fancy like that. No single-serve function either. You just fill the water reservoir, put ground coffee in the filter and you're good to go.
That said, this brewer does offer a whole bunch of extra features that probably explain its popularity.
It includes a water filter. This is great news for anyone who is cursed with low-quality tap water, and doesn't want to use bottled water.
It has a delayed-brew times, which is a fancy way of saying you can set it to make coffee just before you roll out of bed in the morning. Truth be told, I would love to have this feature on my own drip brewer.
There's a brew-strength selector, allowing you choose a regular or strong coffee. Personally I can manage without this. I simply adjust the proportion of ground coffee to water.
It has a Pause 'N Serve feature. This is for folks who can't wait for the brew cycle to finish and want to grab their first mug as soon as possible. I get it. That would probably be me. But...when you do that you get a stronger brew, because you poured early, and leave everyone else with a weaker brew once the cycle is complete. Bad coffee etiquette!
Plus it has some other nice features like an automatic shut-off and a removable filter basket.
I have never tried this brewer. But it seems to have all the functions people want. And I'm hoping it has the one feature everyone wants, which is reliability. A quick browse through the reviews on Amazon suggests that most people were very happy with their purchase.
So that's it. As of now, this Mr. Coffee brewer holds the number one spot as the bestselling coffee maker on Amazon.
I'll keep an eye out and let you know if another brewer knocks them off the top spot.
If you can't find it locally you can
buy the Mr. Coffee BVMC-SJX33GT 12-Cup Programmable Coffeemaker at Amazon.com
.
More about the best coffee makers...
About the author: Nick Usborne, aka Coffee Detective, is a writer and long-time coffee enthusiast. Read more…
Before you go, sign up to receive the Coffee Detective Newsletter...
Sign up for occasional newsletters about the best coffees and brewing equipment. Plus special updates from the Coffee Detective Coffee Store…