BUNN MCU Single Cup Multi-Use Brewer – Use it with loose coffee, coffee pods or K-Cups.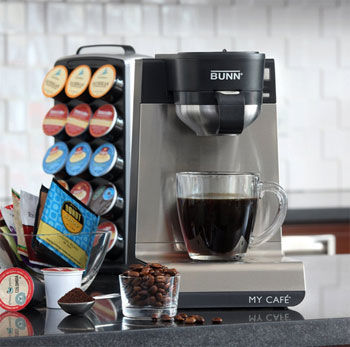 What is so great about this BUNN coffee maker? It brews coffee with regular loose coffee AND coffee pods AND K-Cups.
In other words, this is a brewer that doesn't tie you down and confine you to using just a single one-cup coffee format.
I love this idea. It means you get to choose. Better still, you'll never again be confined by the coffees and blends that are available just as K-Cups, or just as coffee pods. And for those coffees you can't find in either format, get the loose coffee.
How does BUNN do it? There is a single brew head, but beneath that you can slide in a choice of different trays – one for K-Cups, one for coffee pods and one for loose coffee.
Once you are done brewing, just slide the tray out and dispose of the contents. It's that easy.
The brewer doesn't offer much in the way of custom controls. Basically, there is just a brew button and a pulse button. You use the pulse button for when you want a richer, stronger brew.
Also, strangely, there is no on and off button. The brewer comes to life when you push in one of the trays under the brew head. When you remove the tray after brewing, the brewer remains full on for a while and then goes into a kind of sleep mode.
The other surprise is that there is no water reservoir as such. Each time you want to brew you have to add the amount of water you want for that cycle, depending on the size of your cup or mug.
In spite of these small surprises, I think this is a fantastic idea. Having the flexibility to use loose coffee, pods or K-Cups puts you back in control of your coffee making. You get to choose not only the single-serve format, but also the exact coffee, roast or blend you want.
I haven't tried one of these brewers myself yet, but plan to get my hands on one soon. Once I have given it a test drive, I'll add some extra thoughts to this review.
If you can't find it locally, you can buy the BUNN MCU Single Cup Multi-Use Brewer at Amazon.com.
Before you go, sign up to receive the Coffee Detective Newsletter...
Sign up for occasional newsletters about the best coffees and brewing equipment. Plus special updates from the Coffee Detective Coffee Store…