When your espresso cup starts life as a ceramic tea cup.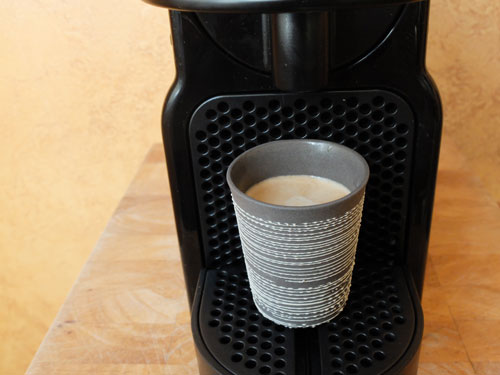 Recently my wife and I have been going to a local tea and spice store to buy loose teas and tea mixes. Perfect for iced tea on hot summer days.  
Anyway, it turns out that one of the guys who serves us the teas is also a ceramic artist.
His name is Arik de Vienne and he has some of his work on display and for sale in the store.
"Hmmm," I said. "Truth be told, I'm a little more of a coffee and espresso guy. But I think your smaller tea cups would be great for espresso."
And that's the really short-story version of how we left his store with two of his tea cups and hijacked them for use as espresso cups.
I really like them.
This is none of your clunky, chunky pottery stuff. These are light, delicate ceramic cups. Glazed on the inside and textured on the outside.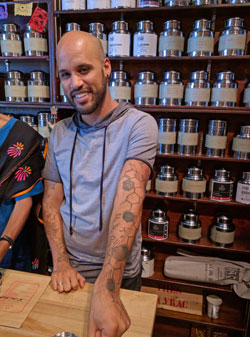 Arik's badass "I love the chemical composition of the minerals in clay" tattoo.
It turns out that Arik adds those lines of texture on the outside for a couple of reasons.

First, because it makes the cups look really great.
And second, because the textured layer offers your hands a little protection against the heat of the cup when you add hot tea or coffee.
Form and function.
You can see more of Arik's work at his website at arikdeviennedesign.com. 
As for the tea and spice store, check them out at spicetrekkers.com. That's a whole different – and fascinating – story. 
In the meantime, this has got me thinking about how maybe we can hijack other stuff from other beverage and food categories, and use them for making and enjoying coffee.
Any ideas?
Scroll down for more photos...
Before you go, sign up to receive the Coffee Detective Newsletter...
Sign up for occasional newsletters about the best coffees and brewing equipment. Plus special updates from the Coffee Detective Coffee Store…