Coffee Buttercream Chocolate Cupcakes
Coffee Buttercream Chocolate Cupcakes
by Stacey Campbell
(Victoria, BC)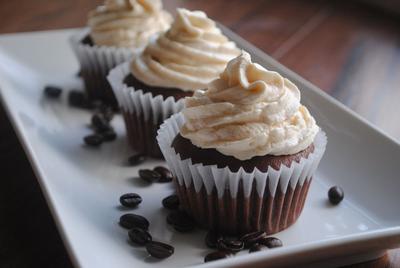 Chocolate Cupcakes

1 cup boiling water
1/2 cup unsweetened cocoa powder
1 1/3 cups all-purpose flour
2 teaspoons baking powder
1/4 teaspoon salt
1/2 cup unsalted butter - room temperature
1 cup sugar
2 large eggs
2 teaspoons pure vanilla extract

Preheat your oven to 375 degrees.

In a medium bowl add your cocoa powder and boiling water today and whisk until smooth.

Let cool down to room temperature - I stuck my bowl in the fridge while i was getting everything else ready.

Line your cupcake pan with the liners.

In a large bowl combine your flour, baking powder, and salt.

Stir until all mixed together and set aside.

With your stand mixer cream the butter and sugar together until light and fluffy.

Add the eggs, beating after each addition.

Add your vanilla extract and mix until everything is combined.

With your mixer on low speed slowly add the dry ingredients to the wet ingredients.

Mix until just combined.

Pour your cooled cocoa mixture into your stand mixer bowl.

Stir by hand until mixed well.

Fill your cupcake pan 3/4 of the way full.

Bake for 16-18 minutes - make sure to check at 16 minutes as you dont want to over bake these.

Cool on a wire rack until ready to frost.


Coffee Buttercream (made with fresh coffee!)

1 cup butter - at room temperature
2 1/2 cup icing sugar
1 tsp vanilla bean paste
3 tbsp coffee - at room temperature

Using a stand mixer beat your butter on high speed until its light and fluffy - about 4-5 minutes.

Slowly add your icing sugar 1/2 cup at a time until its throughly mixed - scraping the sides as needed.

Add your vanilla bean paste and cooled coffee.

Beat until you've reached your desired texture.

Frost your cupcakes - I used Wiltons 1M

See more of Stacey's recipes here!

Join in and write your own page! It's easy to do. How? Simply click here to return to Coffee Recipes.
Before you go, sign up to receive the Coffee Detective Newsletter...
Sign up for occasional newsletters about the best coffees and brewing equipment. Plus special updates from the Coffee Detective Coffee Store…