Snapshot coffee photos from an everyday coffee lover.
I created this page as a home for the snapshots I take of coffee, coffee makers...and coffee-related experiences.
These aren't intended to be high-quality photos. I just love coffee, and sometimes feel inspired to take a quick photo, whether I'm making coffee at home, buying coffee at the store or sitting in a coffee shop. 
What my messy desk and dirty coffee mug really look like. ; )

A great selection of coffee beans in a New York food store.

My brother's French press in Hudson NY

I love coffee most of all when I have it in my favorite cafe on a Saturday morning.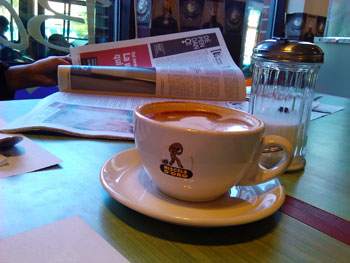 About the author: Nick Usborne, aka Coffee Detective, is a writer and long-time coffee enthusiast. Read more…
Before you go, sign up to receive the Coffee Detective Newsletter...
Sign up for occasional newsletters about the best coffees and brewing equipment. Plus special updates from the Coffee Detective Coffee Store…