My Contigo travel mug... Much loved by me and mothers on airplanes.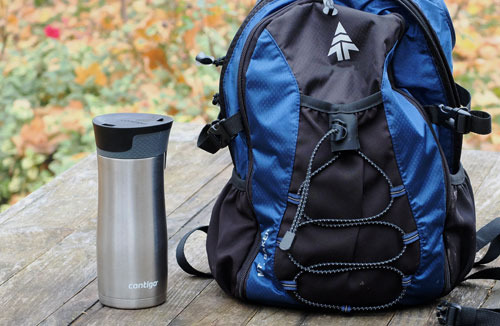 When I purchased my Contigo travel mug, I hadn't researched it or anything. It was just there on the store shelf when I needed it. 
It was only after I got it home that I started paying attention to the thing.
First off, when you unscrew the lid, it's like, "How the heck could they make the inside of a travel mug lid so complicated?"
As you can see from the photo below, there's all kinds of stuff going on in the lid.
At first that struck me as a little weird.
Anyway, the first thing I came to love about the Contigo is that it keeps my coffee hot for hours and hours on end. It has a twin-walled steel body.
And that complicated lid plays a role in keeping your coffee hot too. Because the whole this is sealed tight until you press the button on the back while you're sipping. 
In other words, the whole thing is totally sealed except for when you're drinking.
To illustrate the other strong points of the Contigo, I'll tell you about a flight I took recently, seated next to a very busy mother of two.
I was on a five-hour cross-country flight, with a nice bulkhead seat. For a moment I thought the seat next to me would stay empty. But no. A young mother sat down with her 8-month old son. And next to her, across the aisle, was her mother with the 3-year old.
Needless to say, it was a busy and at times noisy flight.
And right there, among the endless baby bags, was a Contigo travel mug.
It seems she loves that mug.
First, because it keeps her coffee hot for hours and hours on end.
Second, because however often her young kids knock it to the floor, it never breaks or spills so much as a drop.
Third, because there is a lock button on the top of the lid. Pres that and everything is sealed tight shut. Not even the button on the back works.
So… totally safe with youngsters around.
While the lid does seem weirdly complicated, it makes total sense when you figure out what all the pieces are for and how it keeps your coffee hot, and the mug spill-free and leak-free.
I'm a fan. The mother on the plane is a fan. And I'm guessing there are a ton of other fans out there too.
If you want a Contigo travel mug and can't find one locally, they are available on Amazon.com.
Feedback from a reader who has the Contigo...
I have one and it's everything you say as far as heat retention. But on the downside.... if the coffee is very hot, it goes from the tiny opening right onto the tip of your tongue, and its a good idea to make sure the coffee isn't too hot when you fill the cup.  
Next, don't fill it full. Leave at least a half inch of headroom... otherwise there isn't enough air intake to replace the outflow of coffee.  I like a travel mug with a lip to catch the coffee a bit before its hits my tongue.
A great travel mug otherwise.
Glen Burnie MD
Before you go, sign up to receive the Coffee Detective Newsletter...
Sign up for occasional newsletters about the best coffees and brewing equipment. Plus special updates from the Coffee Detective Coffee Store…