Fiber in Coffee – there's more soluble fiber in coffee than there is in orange juice.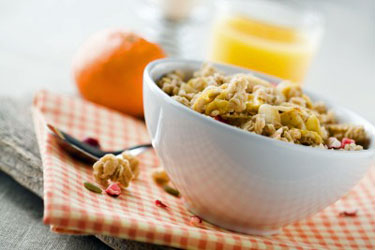 At first sight, the notion of fiber in coffee may seem like nonsense.
But the fiber found in coffee is soluble fiber. You can't see it, but it plays a very important function in our health.
In fact, it's dietary fiber of the soluble kind that helps prevent cholesterol from being absorbed by the intestines.
Recent findings by researchers in Spain suggest that levels of soluble fiber in coffee are higher than anyone expected - higher than the levels found in either wine or in orange juice.
Interestingly, the highest levels are found in instant coffee, not in fresh ground coffee.
The Spanish study found the following levels of dietary soluble fiber in a single cup of coffee:
Instant coffee - 1.8 grams
Espresso - 1.5 grams
Filtered coffee - 1.1 grams 
Based on our daily intake requirements, you'd have to drink 17 cups of coffee or more each day if coffee were your only source of soluble fiber.
However, it's reassuring to note that once again scientists are finding more ways in which coffee has a beneficial effect on our health.
The fact that coffee contains soluble fiber simply adds one more reason why we should feel comfortable enjoying our favorite hot beverage, guilt-free.
And no, we're not switching to instant coffee simply because of the higher fiber content. We'll settle for the lower levels found in fresh-ground gourmet coffee. 
 


More on coffee and your health.
Drinking coffee is good for you in so many different ways, and actually protects you against some serious diseases and illnesses. Find out more here...
About the author: Nick Usborne, aka Coffee Detective, is a writer and long-time coffee enthusiast. Read more…
Before you go, sign up to receive the Coffee Detective Newsletter...
Sign up for occasional newsletters about the best coffees and brewing equipment. Plus special updates from the Coffee Detective Coffee Store…