French Roast Coffee – it doesn't come from France. It's simply dark roasted.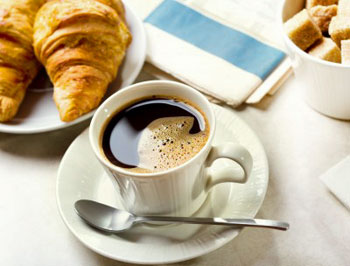 French roast coffee does not, of course, come from France. Any more than Italian roast coffee comes from Italy.
The term simply describes the darkness of the roast.
French roast is very dark. About as dark as you can go without completely losing the flavor of the coffee, and being left with a taste of burned charcoal.
Here's what happens. When you roast coffee to this degree, the oils start to rise to the surface of the bean, and the sugars inside caramelize, giving you a bittersweet tone and almost no acidity at all.
If your French roast coffee tastes too bitter, then the roasting has been poorly done. Over-roasted coffee will also taste thin and burned.
North American dark roast coffee? It's not quite the same.

North Americans generally like their coffee a little milder than coffee drinkers in continental Europe.

So even when you buy a French roast coffee in the U.S. or Canada, you will rarely get the real thing. You'll get something a little more mellow.
The one exception to this is if you buy from Peet's Coffee. Alfred Peet has made a point of roasting his coffees in the European tradition. Starbucks followed suit, although perhaps not to quite the same degree.
Both companies now have hundreds of imitators, all of them trying to tap into the fad for a darker roast.
However, as we said, the French roast coffees you buy or order in a coffee shop are rarely as dark as you would find if you ordered it in a cafe in Paris.
And that's OK. The darker you roast, the more you lose the subtler tones and flavors of the beans. While dark roasting may be fashionable, it is not always the best way to enjoy the full potential of many of the finer coffees.
About the author: Nick Usborne, aka Coffee Detective, is a writer and long-time coffee enthusiast. Read more…
Before you go, sign up to receive the Coffee Detective Newsletter...
Sign up for occasional newsletters about the best coffees and brewing equipment. Plus special updates from the Coffee Detective Coffee Store…