Grass Fed Coffee is a smooth, cold-brew butter coffee in a can.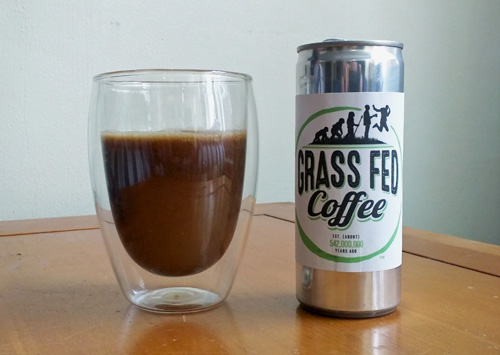 I have had mixed feelings about "butter coffee" ever since the Bulletproof coffee craze began.
In fact, I made some butter coffee for myself a few months and I can't say I enjoyed it much.
But I'm slowly coming around.
The folks at Grass Fed Coffee were kind enough to send me a can of their coffee. They are still at the funding stage, raising money through Kickstarter. That's why there is a paper label on the can in the photo above. 
Anyway, this morning I tried it. And it's really good. I can see myself drinking this instead of the cans of energy drink I sometimes reach for.
So why the turnaround in my opinion?
I think a big part of it is that Grass Fed Coffee is made with cold brew coffee. Cold brew coffee is smoother and less acidic than hot brew coffee.
For me that makes a big difference. The smoothness of the cold-brew coffee is a perfect complement to the creamy feel you get from the grass-fed butter and the MCT oil used to make this "butter coffee". 
If you're not familiar with butter coffee, the basic ingredients are coffee, butter and MCT oil, often in the form of coconut oil.
This coffee contains all those ingredients. The difference being that the coffee is cold-brewed, and they have also added a little organic chicory.
I think they got the balance just right. It's naturally sweet, very smooth and really easy and pleasant to drink.
As for the promise of this coffee – beyond its great taste – they are both physical and mental.
For people who consider themselves "bio-hackers", Grass Fed Coffee will often take the place of a traditional breakfast. It's low-carb without any net sugars, plus gives you an energy boost from the butter.
It also helps with mental clarity, because of both the caffeine and the MCTs, which are claimed to improve cognitive function.
So...if you love coffee, like the low acidity of cold brew coffee, and are looking for ways to get your energy through a low-carb and zero net sugar source, this could be for you.
Best of all, it tastes great!
You can support the Grass Fed Coffee campaign on Kickstarter here.
NOTE: This product was sent to us free in return for a review. (That said, we always reserve the right NOT to review a free product if we don't like it, or feel you wouldn't like it.)
Related:
fatCoffee - an easier way to make butter coffee at home.

More on coffee and your health.
Drinking coffee is good for you in so many different ways, and actually protects you against some serious diseases and illnesses. Find out more here...
About the author: Nick Usborne, aka Coffee Detective, is a writer and long-time coffee enthusiast. Read more…
Before you go, sign up to receive the Coffee Detective Newsletter...
Sign up for occasional newsletters about the best coffees and brewing equipment. Plus special updates from the Coffee Detective Coffee Store…