Our review of AMUCC Colombia from Groundwork Coffee.
Many thanks to the folks at Groundwork Coffee for sending us a bag of their AMUCC Colombia coffee beans. 
These are single origin, organic coffee beans with quite a story behind them.
First, a few words about Groundwork Coffee. They got started in Venice Beach, CA over 25 years ago. They were one of the first certified organic coffee roasters in California.
Today they roast in both California and Portland, OR. And both facilities are solar-powered. 
Pretty cool.
Being good guys, it's no huge surprise they reached out to help a very particular group of Colombian coffee growers, represented by AMUCC.
AMUCC is a Fair Trade certified association of women coffee growers and producers.
Why women growers? Because 25 years of political upheaval and violence in the country has drawn men away from the farms, often to their deaths. It has been up to the women to step up, fill the gap and keep coffee production going.
Every purchase of a bag of this AMUCC single-origin, organic coffee helps support their work.
As for the coffee itself, we followed our usual tasting procedure.
We ground the beans immediately before brewing, brewed the coffee and then let it sit to cool for a couple of minutes before tasting.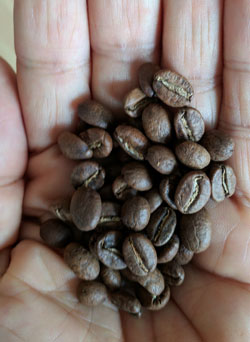 This is a light-roast coffee, so we were expecting a fairly light taste. In fact, when not done right, a light roast can leave you with a taste that is not only light, but also thin and without discernable flavors. Roasting light ain't easy!
But this Colombia coffee is a surprise from the first sip.
Yes, the overall impact of the coffee in your mouth is light. But the taste is far from thin. There are layers of very clear and discernable flavors.
My wife – the better taster of the two of us – describes the first taste as a fruit basket of flavors that dances on the tip of your tongue. Grapefruit, and maybe a touch of sour green apple.
With the second sip, she felt the flavors fill more of her mouth, with the complementary warmth of chocolate and caramel.
This is unquestionably a quality coffee, and well roasted.
Like I said, roasting light isn't easy, and we always approach the tasting of a light roast with some trepidation.
But Groundwork nails it with this AMUCC Colombia.
You can find out more about Groundwork Coffee here.

Read our no-nonsense coffee reviews...

All our coffee reviews are written in plain English, and are not paid for. We just call it as we taste it. See all our coffee reviews here...

NOTE: This product was sent to us free in return for a review. (That said, we always reserve the right NOT to review a free product if we don't like it, or feel you wouldn't like it.)
Before you go, sign up to receive the Coffee Detective Newsletter...
Sign up for occasional newsletters about the best coffees and brewing equipment. Plus special updates from the Coffee Detective Coffee Store…