Has Maxwell House coffee gone bad?
Has Maxwell House coffee gone bad?
by donald fitch
(naugatuck,wv,usa)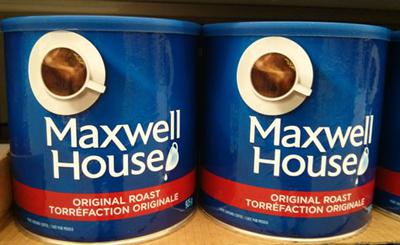 Maxwell House Coffee

QUESTION:

I have used regular Maxwell House for many years, but lately it just is not any good. I used rich original, but now the bag or can says Arabica beans. I have called the company but the lady couldn't tell me anything, so I'm hunting for a good tasting coffee again.

Thanks, Don Fitch

ANSWER:

Don, hi

I assume you have been buying the ground coffee, and not Maxwell House's instant coffee.

I checked out their site and see that they have changed their packaging recently. Whether or not they made any changes to the coffees they put in the cans, who knows.

If Maxwell House formerly used a blend of both Arabica and Robusta beans in their blends, that would explain the change in taste. (Large companies sometimes like to use a percentage of Robusta beans, simply because they are significantly cheaper to buy.)

Anyway, if you no longer like the Maxwell House coffee, there are hundreds of other coffees available in stores and online.

If you want to check out some Robusta blends, to see if that is the taste you are missing, look out for Italian coffees in your local stores and read the packaging.

If the coffee you once loved is no longer hitting the spot, try one of our Coffee Detective gourmet coffees.
Yes, we have our own coffees!
Take your pick from a few of our favorites. They are roasted fresh when you order them, and delivered free anywhere within the continental USA.
You can find our complete collection of coffees at the Coffee Detective Gourmet Coffee Store.
But feel free to start here, with a choice from a few of our favorite coffees - whole bean or ground.
And before you go, subscribe to the Coffee Detective Newsletter...
Sign up for occasional newsletters about the best coffees and brewing equipment. Plus special updates from the Coffee Detective Coffee Store…