Our review of Blue Mountain Cache, from Blue Mountain Coffee Inc.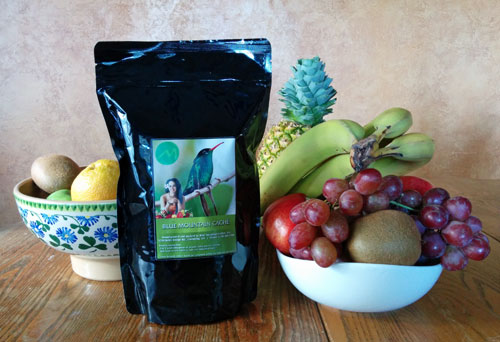 This coffee came to us as a gift from some friends who know we are always interested in trying new coffees. They also know we have a soft spot for Jamaican coffee.
Blue Mountain Coffee Inc is a company with a very long history in Jamaica, and has been run by the Munn family for several generations. Their coffees are grown at high elevations in the Jamaica Blue Mountains and processed at their Mavis Bank processing facility.
When we first tried this coffee, I was a little surprised by the taste profile. I have tried a number of Jamaican coffees, and this one had more points of difference than I had expected.
Then I read the coffee description more carefully and discovered that it's actually a blend of coffees from Jamaica and Papua New Guinea.
Why from Papua New Guinea? It seems that the coffee trees in Papua New Guinea were imported from Jamaica back in the 1930s, and they are grown today in very similar, high mountain areas. So, an interesting blend. 
I tried a three different brewing methods until I was happy with the result. For me, the method that did this coffee the most justice was the Aeropress.
OK, now for the review.
This is a medium-roasted coffee, or perhaps just to the dark side of medium, with a light aroma which promises a hint of chocolate.
Our first sip confirmed this, although I found more chocolate in the taste than my excellent tasting partner did. (My wife.)
This as a coffee that falls somewhere between bold and mellow. There is an acidity there that attaches to the top of your mouth at the first sip, and smooth sweetness that envelopes the tongue, with a hint of that chocolate, with some citrus and berry flavors in there too.
It was an interesting blend to try, both because of its origins and the difficulty I had in brewing it at its best.
If you are a fan of different coffees and blends, I can certainly recommend you give it a try.
You can buy Blue Mountain Cache here. 
Further reading on Jamaican Blue Mountain coffee:
Why Jamaica's Blue Mountain Coffee is so good, and why it costs more.
Jamaica Blue Mountain Coffee – from seed to harvest.
Processing coffee in Jamaica's Blue Mountains.
How low-tech and high-touch makes Jamaica Blue Mountain Coffee so good.
About the author: Nick Usborne, aka Coffee Detective, is a writer and long-time coffee enthusiast. Read more…
Before you go, sign up to receive the Coffee Detective Newsletter...
Sign up for occasional newsletters about the best coffees and brewing equipment. Plus special updates from the Coffee Detective Coffee Store…