Our review of the JavaPresse manual burr coffee grinder.
Note: As an Amazon Associate I earn from qualifying purchases.

A hand coffee grinder isn't for everyone. 
It's for people who take pleasure in setting aside time to make their coffee by hand. Someone who likes to grind their coffee by hand will probably also like to use a manual, pour-over brewing method. Or use a French press.
Advertisement:
The point being, it takes time to grind coffee by hand. If you want to use a hand grinder, you have to love the process of making coffee.
Over the years I have tried a few different manual coffee mills. Recently I have been using the Kyocera grinder. It's a good grinder, with a conical burr mechanism.
But...and this is not a general complaint, it's one specific to me...I find it a bit heavy and bulky.
I say that because one of the times I value a hand grinder most is when I'm traveling.
I have been looking forward to trying the JavaPresse coffee grinder simply because it is a lot slimmer, smaller and lighter.
In other words, it's perfect for slipping into your suitcase along with your other coffee gear when traveling to places where you can't rely on finding good coffee, and want to make your own.
Once I had it in my hands, I loved the JavaPresse even more. It's made of steel but is even lighter than I had anticipated. It's also really easy to work with.
Lift off the hand crank at the top and slip off the lid to pour your coffee beans into the upper chamber. 
Pull off the bottom part – which, like the top, is just friction fitted – and you have access to the conical burr grinding mechanism at the base of the upper chamber. Turn the dial to adjust the grind size.
Then put it all back together and turn the hand crank to start grinding the coffee.
You can eyeball the amount of coffee you grind because the bottom part of the grinder, which is where the ground coffee collects, has a couple of narrow windows in it.
The JavaPresse fits easily into one hand while you turn the crank with the other.
OK... now for the final test.
Being a person who is towards the lazy end of those who like to hand grind their coffee sometimes, I was a little worried that due to its smaller size - compared to the Kyocera - the JavaPresse would take longer to grind the coffee.
It turns out that isn't a concern. The grinding mechanisms are more or less exactly the same size in both grinders. I even put it to the test, seeing how much each grinder would produce in just 20 seconds of grinding.
They both produced exactly the same weight of coffee grinds – 3 grams.
By this point I was sold.
The JavaPresse is lighter, slimmer and just as easy to use. And it grinds coffee just as fast.
It's my new hand grinder of choice.
You can get the JavaPresse manual burr coffee grinder at Amazon.com.
NOTE: This product was sent to us free in return for a review. (That said, we always reserve the right NOT to review a free product if we don't like it, or feel you wouldn't like it.)
Advertisement: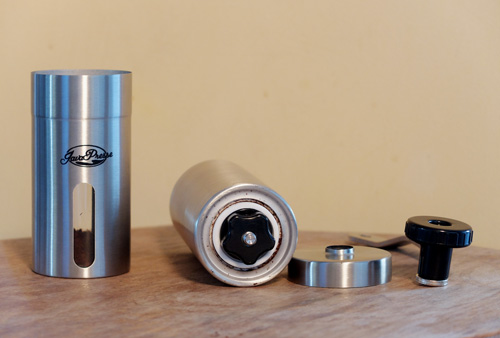 The JavaPresse grinder disassembled, showing the dial and ceramic plates at the base of the upper chamber.
About the author: Nick Usborne, aka Coffee Detective, is a writer and long-time coffee enthusiast. Read more…
---