King's Row Shelton Signature Blend – a deep, rich and balanced coffee for the true coffee lover.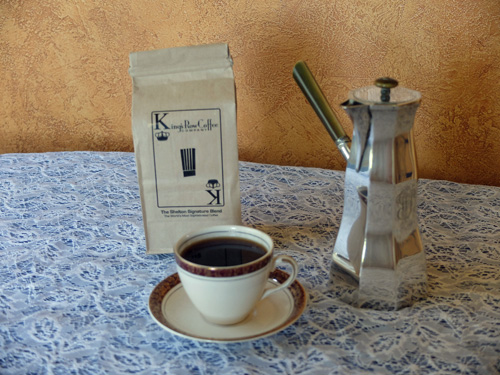 First off, a big thank-you to the folks at King's Row Coffee for sending us a box of their coffees.
We have really been looking forward to try these because, in addition to being premium coffees of the highest order, these are blends that have been selected and roasted with a particular purpose in mind.
Let me explain.
The man behind King's Row is a chef, Craig Shelton. And he's no ordinary chef. His resume reads like a Who's Who of haute chefs and of legendary restaurants. He has received numerous awards for his culinary work and, in addition, has degrees in Molecular Biophysics and Biochemistry from Yale University.
For the past 25 years he has been looking for coffees that match the quality of the food he serves.
This led him to discover that our palates, and our experience of coffee, is influenced not only by the food we are eating, but by other environmental factors as well.
For example, the salty air at the beach impacts the taste of coffee. As does the thin air at the top of a mountain. And, of course, our taste experience differs if we drink coffee after a sweet dessert, or while eating a savory main course.
Unable to find coffees that addressed these issues, Craig began to develop his own blends, sourcing just the very best beans, and blending them to deliver the best taste experience according to where you are and what you are eating.
The result is King's Row Coffee.
We are going to try all the coffees they sent us. The Bonbon Blend looks interesting, as it is at its best after a savory or sweet dish. And we happen to love chocolate.
But first we decided to try the Shelton Signature Blend. This is, as it says, the signature blend for King's Row, and that is reflected in the price.
As always, we ground the coffee beans immediately prior to making the coffee, which we did in our trusty Bonavita drip brewer.
We left the coffee to cool a little, and then commenced our tasting.
Long story short, this is an outstanding coffee. As expected.
(In case you didn't know, we never charge for reviewing coffees on this site. We try different coffees and if we like them, we review them. If we don't, we don't. I say this just in case you thought we were paid to say nice things about the coffees we review.)
Back to the Signature Blend.
This a blend of Indonesian and African coffees, and it shows. You get some of the earthy richness and dark-chocolate sweetness I associate with Indonesian coffees. And the citrus, slighter brighter mouth feel you get with coffees from Africa.
This is dark roasted. But from the look of the beans, on the light side of the dark spectrum. My guess is that is how the roaster managed to get the rich, bold and sweet taste from the beans, without crossing the line into too much acidity or bitterness.
This is a coffee to be enjoyed black. The sweetness is there naturally.
We love it.
I have more to say about King's Row and their coffees, but I'll save that for next time, when we review the Bonbon Blend.
You can find out more about King's Row Coffee here.
Special Offer for Coffee Detective Readers
Save 20% on your purchase from King's Row Coffee. 
Use Coupon Code coffeedetective20 at checkout. You can even use the code on two occasions! At King's Row Coffee...

Read our no-nonsense coffee reviews...

All our coffee reviews are written in plain English, and are not paid for. We just call it as we taste it. See all our coffee reviews here...

About the author: Nick Usborne, aka Coffee Detective, is a writer and long-time coffee enthusiast. Read more…
Before you go, sign up to receive the Coffee Detective Newsletter...
Sign up for occasional newsletters about the best coffees and brewing equipment. Plus special updates from the Coffee Detective Coffee Store…