Our review of Kuma Coffee's Guatemala La Esperanza, by way of Bean Box.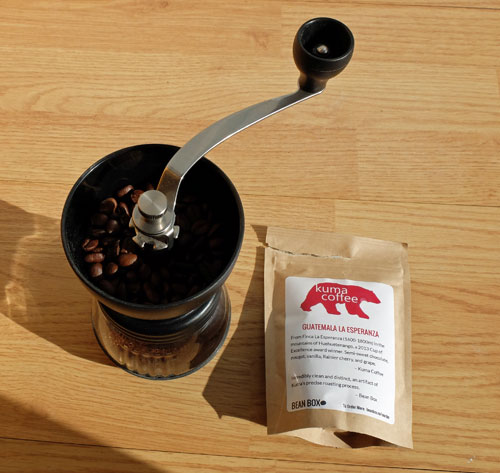 Once again, a big thank-you to Matthew Berk of Bean Box for sending us a box of coffee samples.
Our last review was of Herkimer Coffee's Drip Blend.
This week we are tasting another sample from our Bean Box – Kuma Coffee's Coffee Guatemala La Esperanza.
Each sample bag contains about 50 grams of whole coffee beans, enough to make a single pot of coffee. And as you can see from the photo above, I gave myself a little workout by hand-grinding the beans before brewing.
As always, we tasted the coffee black, after waiting a few minutes for it to cool.
This is a very different coffee when compared to the Herkimer beans.
The coffee is medium roasted, but on the light side of medium. The aroma is light, and didn't give us a lot to go on.
And the taste is fairly mild. There is a sweetness there and a hint of chocolate. But a gentler, maybe milky chocolate. You get the acidity you expect, but again it's fairly light and gentle. With a touch of cherry.
But perhaps the dominant taste, the mouth feel we were left with, was citrus. A kind of dry orange. That is to say, the taste of orange, but without the juice and sweetness of an orange. 
It's a nicely balanced coffee, with the soft milk chocolate being balanced by the dry orange.
Did we like it? It's a good coffee, but not one of our favorites.
That doesn't take anything from the quality of the coffee. It's a good coffee and well roasted. It just didn't hit the right spots to appeal to our personal taste for coffee. The Herkimer was much more to our liking.
Of course, if you ask another coffee drinker to compare the two coffees, he or she might come to the opposite conclusion, preferring the Kuma coffee.
It's the same with wine tasting. Different experts will have their own preferences when tasting fine wines from different regions.
This is what Bean Box is all about.
The Bean box service brings you four new coffees each month. All are screened for quality, so all that remains is for you is to taste them and find out which best match your own preferences in a fine cup of coffee.
You can learn more about Bean Box here.

Read our no-nonsense coffee reviews...
All our coffee reviews are written in plain English, and are not paid for. We just call it as we taste it. See all our coffee reviews here...
About the author: Nick Usborne, aka Coffee Detective, is a writer and long-time coffee enthusiast. Read more…
Before you go, sign up to receive the Coffee Detective Newsletter...
Sign up for occasional newsletters about the best coffees and brewing equipment. Plus special updates from the Coffee Detective Coffee Store…