Making regular coffee low acid?
by Harmony
(MI)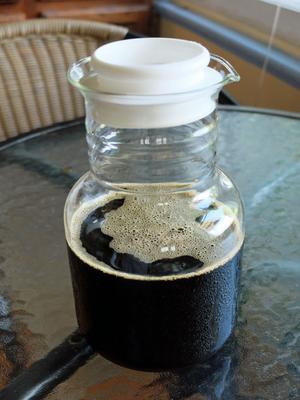 Low acid cold-brew coffee concentrate.

QUESTION:

I have recently started having some stomach issues and was told my my Dr. to cut the caffeine. WHAT IS HE NUTS!

So, I was talking to some of my friends about cutting my caffeine intake and it was suggested that I try a low acid coffee. Well I was having a hard time finding a low acid coffee at the health store and asked about it. They told me I can make my own low acid coffee by grinding my own beans and drinking my coffee with in 20 minutes of being brewed or use a single cup maker.

I am curious, is this true? Is lowering the acidity of my coffee really that easy?


ANSWER:

I don't think it is true. Sorry about that.

However, there are a couple of ways you really can reduce the acidity of your coffee. (Plus a weird one!)

Option one involves adding crushed egg shells to the coffee grinds before you brew.

When researching this a couple of years ago I learned that people have been adding egg shells to coffee grinds for a long time now, including in the movie "The Big Store", in which Harpo adds eggshells to the coffee maker's basket when he's making Groucho's breakfast.

It seems that the calcium compounds in the eggs shells help neutralize the acidity in the coffee, resulting in a milder and less acidic brew.

This is probably a great tip for people with sensitive stomachs.

Option two is to use a cold-brew process. The cold-brewing method reduces the amount of acid in any coffee by a huge amount.

This means you can use any coffee beans and still get a low-acid brew.

The brewer you need to use is called the Toddy Cold Brew System. There is no hot water or "brewing" involved. All you use is cold water and ground coffee.

The low-acid coffee it produces is actually a concentrate. You keep this in the fridge, for up to three weeks, and then add some concentrate to a mug and then top it up with water when you're ready for a cup of coffee.

As far as I know, this is the best solution for low-acid coffee. Toddy claims that their method reduces acid in coffee by 67%.

You can learn more and buy your Toddy Cold Brew System from Amazon


Option three - the weird one - is a way of making coffee in some parts of Indonesia, called Charcoal Coffee. Put simply, the coffee is heated by dropping a red hot chunk of charcoal into the coffee mug. This heats the coffee and, it is suggested, reduces the acidity.

Further reading...

How do you make Swedish coffee?.