Our review of a wonderful coffee from the Adado Region of Yirgacheffe, Ethiopia - from Modest Coffee Roasters.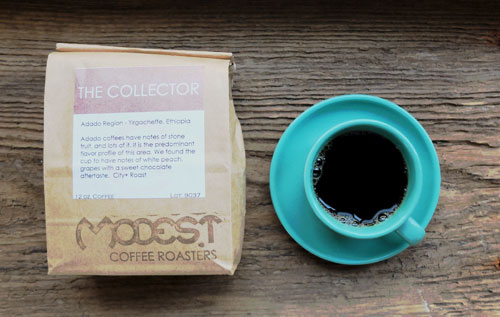 Many thanks to Marcus Contaldo for sending us this coffee.
From what we can tell, Marcus and his wife Jennifer didn't create Modest Coffee Roasters as fully fledged coffee professionals.
They got to where they are now as you or I might – step by step, driven by a love of coffee, and scaling up from having an obsessive hobby to growing a successful business.
We love stories like this.
Sure, we review coffees and equipment from big, national brand names. But we also like to give a little love to companies like Modest Coffee Roasters.
Go to their site and you'll see they offer a subscription service at 3 different levels – Modest, Enthusiast and Collector.
The Modest subscription is priced at the lowest level, then the Enthusiast, and finally the Collector. The more you pay, the higher the quality of the coffees you'll be sent.
We really like how they offer these different subscription levels.
We also like the fact that it's easy to order an extra bag when you need one.
A lot of coffee subscription services make you feel you're locked in. What happens when you're planning on entertaining and need more coffee? 
On top of all that, they are also super-ethical about sourcing their coffees, ensuring that profits flow back to the communities where the beans are grown.
Anyway – onto the review.
As always, we brewed the coffee in our Bonavita drip brewer. (Why always in the Bonavita? First, because it makes great coffee. Second, so there is absolute consistency between all the coffees we review.)
This is one of their Collector coffees – one of the really good ones. It's from the Adado region of Yirgacheffe in Ethiopia.
For us, the first and dominant taste was of dark chocolate, with a base of hazelnut. You get the bitterness and the sweetness of the chocolate tones, the base of nuts and then... a touch of citrus and other fruit tones in the aftertaste.
Interestingly, while Marcus and Jennifer found of lot of stone fruit notes in the coffee, we didn't really find that. Maybe we let the coffee wait a little too long after it was delivered.
Anyway... no complaints about the coffee at all. We loved it. It's full and bold, but with a soft and velvety mouth feel. And with a wonderful balance between chocolate, nuts and fruit in the aftertaste.
You can check them out their coffees, and take a look at their subscription service, at the Modest Coffee Roasters website.

Read our no-nonsense coffee reviews...

All our coffee reviews are written in plain English, and are not paid for. We just call it as we taste it. See all our coffee reviews here...

NOTE: This product was sent to us free in return for a review. (That said, we always reserve the right NOT to review a free product if we don't like it, or feel you wouldn't like it.)
Before you go, sign up to receive the Coffee Detective Newsletter...
Sign up for occasional newsletters about the best coffees and brewing equipment. Plus special updates from the Coffee Detective Coffee Store…