Our review of a unique Mocha Java blend by way of Bean Box.
Another big thank-you to the folks at Bean Box.
We have reviewed a couple of their coffees in the past, both of them very good.
This time we're going to taste their True Mokha Java blend.
But before we get started, let me put our review into context by reminding you what Bean Box does.
They are based in Seattle, but they are not coffee roasters. Instead, they reach out to the top independent, small-batch roasters in the city, curate the coffees they receive, and then send samples of the very best coffees to their subscribers.
As a coffee lover, you simply subscribe to the Bean Box service and watch for your monthly delivery of new coffee samples.
When you try a coffee you love, you can go back to the Bean Box website and order a full-sized bag.
It's a great way to try the very best coffees, from the finest roasters, from what is arguably to top "coffee city" in the U.S.
Now to the Mokha Java blend they sent us.
First, this is probably the oldest coffee blend in the world. 
Back in the 17th century, merchants used to bring Java coffee from Indonesia and sail into the port of Mocha in Yemen where the Java coffee beans were blended with local, Mocha beans. The blend was then exported north into Europe.  In other words, this blend has been around for centuries now.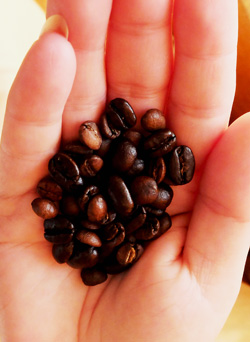 You can see the two different beans in the blend by the darkness of the roast and the size of the beans.
With this blend Bean Box has taken on the role of the coffee merchants in Yemen. They combined Java beans from Fundamental Coffee Company, Mocha beans from Conduit Coffee Company, and created their own unique blend.
OK, now to the tasting.

As always we ground the beans just before brewing and, to ensure consistency between all our reviews, we used our trusty Bonavita drip brewer to brew the coffee.
This is a very striking coffee. It is bold, but still manages to be smooth.
Perhaps the dominant taste is that of dark chocolate. Definitely dark, but not too sweet. Bitter-sweet. With a touch of dry cocoa.
There is also a taste of fruity citrus there. This adds some life and sparkle to the underlying chocolate flavor.

As we expected from a Mocha Java, this is a very good coffee. Based on previous tastings, I would say that the Java is a little more prominent in this particular bend.

(The chocolate comes from the Java beans, the fruit taste comes from the Mocha beans.)
Very nice. Kudos to Bean Box, Conduit Coffee Company and Fundamental Coffee Company.
You can find out more about Bean Box and their coffees here.

Read our no-nonsense coffee reviews...

All our coffee reviews are written in plain English, and are not paid for. We just call it as we taste it. See all our coffee reviews here...

About the author: Nick Usborne, aka Coffee Detective, is a writer and long-time coffee enthusiast. Read more…
Before you go, sign up to receive the Coffee Detective Newsletter...
Sign up for occasional newsletters about the best coffees and brewing equipment. Plus special updates from the Coffee Detective Coffee Store…