How to use the My K-Cup coffee filter with your Keurig Brewer.
Having a My K-Cup reusable filter means you can use your Keurig brewer without K-Cups. Whether you have run out of K-Cups, want to try a coffee not available in K-Cups, or simply want to save some money on the price of each cup you brew, the My K-Cup filter is the answer. With its reusable filter, you can use the My K-Cup filter in your Keurig brewer time and time again.
If you can't find one locally, you can buy the My K-Cup reusable filter at Amazon.com.

More videos about coffee and coffee makers...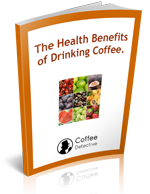 This 9-page report tells you about some of the surprising, and important health benefits of drinking coffee.
This report is yours FREE when you sign up for the Coffee Detective Newsletter
"The Health Benefits of
Drinking Coffee"
Sign up below and we'll provide a link where you can download your report immediately.
---