Nespresso puts the focus on taste with their Limited Edition espresso capsules.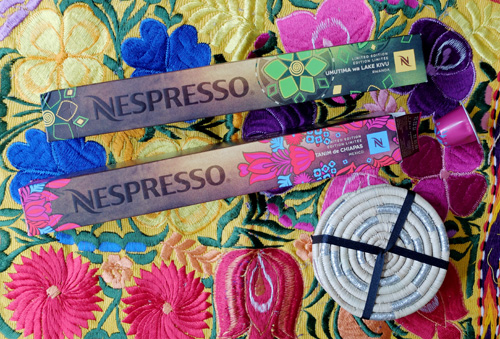 First, a word or two of thanks to the folks at Nespresso.
They recently sent me two boxes of capsules, plus a couple of colorful place mats and a set of coasters.
I'm guessing the place mats came from Mexico, to go along with the Tanim de Chiapas espresso capsules. And the coasters are paired with the Umutima Wa Lake Kivu espresso from Rwanda.
These are both Limited Edition espressos and demonstrate how Nespresso has moved on from simply selling the convenience of espresso capsules to a point where they are appealing to people with more refined tastes when it comes to the espresso they drink.
A few years ago most people simply viewed espresso as being "espresso". Nobody thought much about origins, beans, processing and so forth.
Nespresso has been pushing espresso lovers forward a little, tempting them into paying a little more attention to the shots they are drinking.
Now you can go to the Nespresso site and choose from not only capsules with cute names - like Livanto, Capriccio and Volluto – but can also select espressos from specific origins, like their Indriya from India and Rosabaya de Colombia.
The next step has been their Special Edition espressos, like the two boxes of capsules they sent us.
We like that they have been doing this. It's like they have slowly been revealing that not all espresso tastes the same, and that you can approach it with the same level of discernment as you would when ordering a particularly fine gourmet coffee.
OK... it's time to break out our Nespresso Inissia and give these two espressos a taste test.
First off, tasting these two espressos side by side makes it quite clear that not all espresso is the same.
The Mexican espresso from Chiapas is has a deep, smooth taste. It is intense without being harsh... it never loses that smoothness, from the first taste to the aftertaste. There's a hint of nutty sweetness in there too.
The espresso from Rwanda is very different. It is a lighter and brighter shot. A little less intense, with a floral sweetness to match.
Of the two, I preferred the Tanim de Chaipas from Mexico. But that's a personal thing. I have the same kind of bias when drinking coffee, preferring deeper, bolder brews.
Anyway, if you are ready to explore espresso in the same way as you do with gourmet coffee, Nespresso has you covered... from everyday espresso right through to their Limited Edition collection.
You can learn more about Nespresso in the U.S. here, and in Canada here.
NOTE: This product was sent to us free in return for a review. (That said, we always reserve the right NOT to review a free product if we don't like it, or feel you wouldn't like it.)
Before you go, sign up to receive the Coffee Detective Newsletter...
Sign up for occasional newsletters about the best coffees and brewing equipment. Plus special updates from the Coffee Detective Coffee Store…