For people who love K-Cups, but hate putting all that plastic in the trash.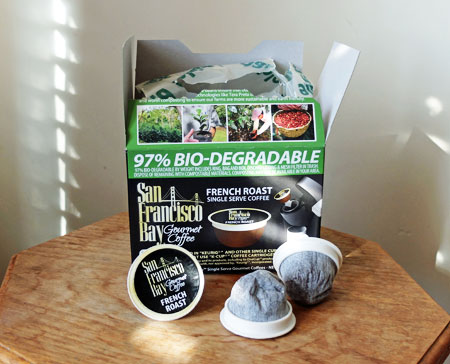 Many of the readers of this site have expressed strong opinions about the awful waste involved in using conventional K-Cups.
You use the K-Cup once and then toss it into the garbage. From there it joins BILLIONS of other K-Cups in landfills around the globe.
In addition, there is a growing concern about the plastics used in making K-Cups, and the possibility of toxic chemicals leaching from each K-Cup when hot water is passed through it as part of the brewing process.
Well, the folks at Rogers Family Company have been working hard to address this problem, and were kind enough to send us a box of their OneCup K-Cups.
As you can see from the photo above, the OneCup doesn't look like a regular plastic K-Cup. In fact, there is no plastic there at all.
The white ring at the top of the OneCup, which sets it into the Keurig brew head, looks and feels like plastic, but is in fact made from a plant-based material and is 100% biodegradable.
The lid material started as a foil, but is now being transitioned to a paper version.
Bottom line…every element of the OneCup is biodegradable, except for the mesh that holds and filters the coffee.
When I first thought about this, my reaction was that there's not much point in having a K-Cup that is 97% biodegradable. That missing 3% means you still have to throw the K-Cup into the trash rather than the compost.
Or else you have to spend time cutting away the mesh and then composting the rest.
But after thinking about it some more, I came to a different conclusion.
First, I know that the Rogers Family Company is actively working on the mesh issue, with the intention of making the OneCup 100% biodegradable.
Second, if you do toss your used OneCups in the garbage, you are creating 97% less waste than with conventional K-Cups. Once in the landfill, all but the mesh will naturally degrade.
I think the company deserves a big thumbs-up for their efforts. K-Cup trash is a huge problem and takes a lot of the shine off the convenience of single-serve coffee brewing.
I applaud them for making the effort to address this problem.
As for the coffee itself, we enjoyed it. We didn't find it better or worse than regular K-Cups, but certainly appreciated the zero-plastic, and that we were cutting our waste by 97%.
You can find OneCup coffee at the Rogers Family Company website here…
About the author: Nick Usborne, aka Coffee Detective, is a writer and long-time coffee enthusiast. Read more…
Before you go, sign up to receive the Coffee Detective Newsletter...
Sign up for occasional newsletters about the best coffees and brewing equipment. Plus special updates from the Coffee Detective Coffee Store…